Surrounded by half-inflated eagles, wearing a "Make Oakland Great Again" hat and dressed as an elf to "deliver Xmas in July", San Francisco real-estate developer Gene Gorelik stood on a boom lift above a homeless encampment in Oakland on Friday and chanted into a bullhorn, "Free money! Free money!"
The scene follows Gorelik's posting on Facebook that explained Home Depot Oakland could be forced to close (with 300 jobs at stake) because, as he notes "it is under attack by Libbyland" – a reference to Oakland's uber-liberal mayor Libby Schaaf
"I will rent a boom lift from Home Depot and make it rain $300 in singles to show the Citizens of Libbyland I'm serious. Then I'll offer $2000 each to move to 11 4th St. by 8PM. However, if anyone is left in Libbyland at 8PM, no one gets any money. It's all or nothing.

Remember, half the homeless came from outside Oakland. They have been lured in by Libby's promise of free housing. If you feel Schaafted, please come out for a day of good, clean, fun community service to save 300 Oakland Jobs from the Libbyland Attack!"
Perhaps unsurprisingly, he was shouted down by community activists and encampment residents before he was able to turn on his leaf blower full of cash as they raged at the arrogance of his free-money handout when what they appear to really want is free houses or moar money than just 2 grand!!??
"It's just a slap in the face for the residents," said Candice Elder, the chief executive of East Oakland Collective, a community organization that focuses on racial and economic equity.

"He's not doing anything constructive right now but being disrespectful and classist."
38-year-old Kay Spikes, who has lived in a tiny house in the encampment for five years, exclaimed "it really doesn't do anything…"
"$2,000 would get me maybe a motel for two weeks, some food," she said.

"You can't even use that as a deposit. There's no place in Oakland that's $1,000. It doesn't solve the issue and it sure doesn't even put a cushion under it."
So what do they want?
Simple – as this sign of the 'new normal world of handouts and money-for-nothing' times seems to confirm…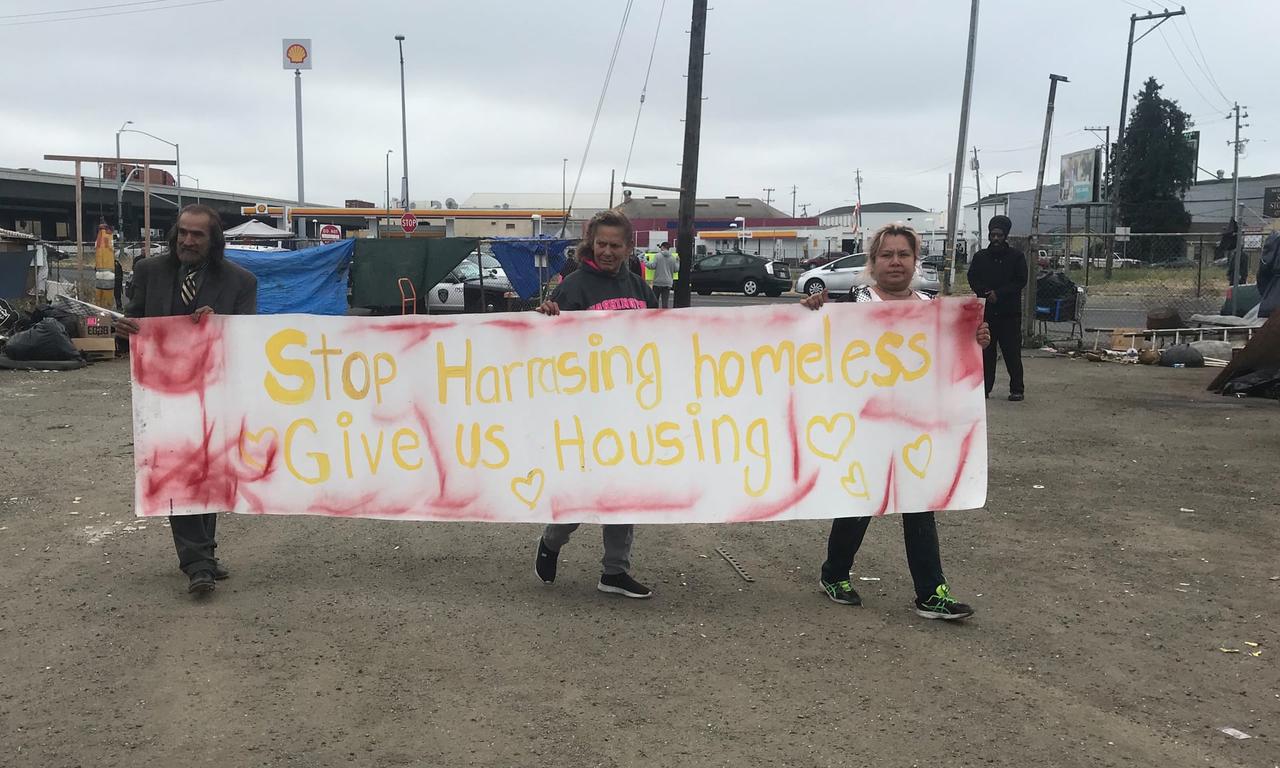 If only 'the rich' would pay just a little fairer share of their taxes, every homeless person in America can have a house (and a pony?)… because, after all, isn't owning a house a basic human right?
(Visited 4 times, 1 visits today)