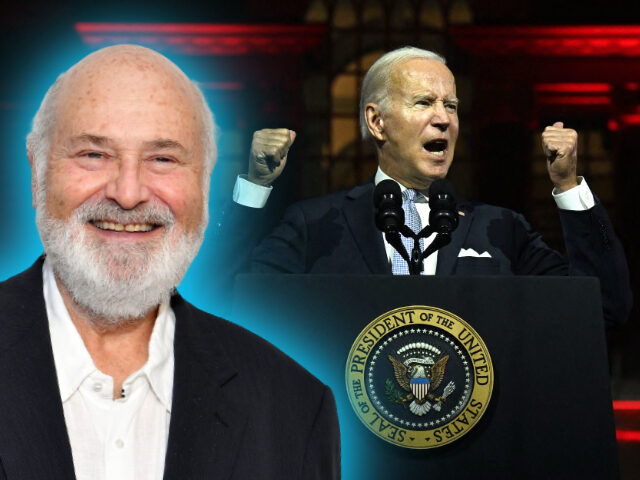 In one of his most ironic proclamations to date, Rob Reiner declared that "democracy" can only survive if former President Donald Trump is imprisoned and all third-party candidates are prohibited from running.
Rob Reiner — who is one of Hollywood's biggest cheerleaders for Joe Biden — made his absurd statement in a recent post to X, formerly known as Twitter.
Hard Reality: For our Democracy to survive, two things have to happen. Donald Trump needs to be Convicted for Jan. 6th and there can be no Third Party Candidate.

— Rob Reiner (@robreiner) September 8, 2023
Some prominent commentators have noted that Reiner's call to prohibit all opposition candidates is fundamentally anti-democratic and would only serve to benefit Biden.
Independent journalist Glenn Greenwald said Reiner's statement shows how Democrats define "democracy" — by imprisoning their opponents and removing them from the ballot.
I love when Democrats take a break from insisting that they are "Defending Democracy" to actually explaining a bit what they mean by "democracy" — from trying to imprison their political adversaries, to suing to strike them from the ballot, to censoring the internet, to this: https://t.co/k84uNzjw04

— Glenn Greenwald (@ggreenwald) September 9, 2023
The Federalist's Mollie Hemingway wrote that removing candidates from the ballot would be "the equivalent of canceling the 2024 elections."
Removing from the ballot the candidate most likely to defeat the ruling regime is the equivalent of canceling 2024 elections, a horrific attack on democracy. Everyone who cares about the country should loudly condemn. https://t.co/L0OgvZPAvR

— Mollie (@MZHemingway) September 9, 2023
Reiner continues to serve as one of Hollywood's biggest Biden boosters, from fundraising during the 2020 election to his more recent and dubious proclamation that Biden is the best president since Lyndon B. Johnson.
But as Biden's poll numbers continue to sink and his own party appears to be turning on him, Reiner has become more aggressive and factually-challenged in his social media cheerleading.
As Breitbart News noted, Reiner was fact checked by "Community Notes" on X, after spreading a lie about January 6 prisoner and Proud Boys leader, Enrique Tarrio, who was sentenced to 22 years in prison on Tuesday.
Reiner erroneously claimed that Tarrio had "violently stormed" the U.S. Capitol on January 6 (Tarrio wasn't even in Washington, D.C., that day).
Before the 2022 midterm elections, Reiner warned that unless Democrats held the House of Representatives and expanded their majority in the Senate, the outcome would possibly mean an end to all further elections in the United States.
"[Republicans] are only interested in power." he ranted on MSNBC. "And they will do anything to get the power. And they are willing to kill, literally kill, to get the power. You can't have a conversation with them."
(Visited 1 times, 1 visits today)