Authored by Joe Gomez via The Epoch Times (emphasis ours),
Several schools and private companies have reinstated mask mandates as COVID-19 cases and hospitalizations continue to increase across the country, causing divisions in communities over how to limit the spread of the coronavirus.
COVID-19 hospitalizations have increased by nearly 16 percent over the past week alone, according to the Centers for Disease Control and Prevention (CDC).
In Alabama, Kinterbish Junior High School issued a mask mandate in late August for students, staff, and visitors due to COVID-19 and just this week, Rosemary Hills Elementary School in Silver Spring, Maryland, issued a mask mandate for 10 days, after three people at the school tested positive for the virus.
"It always starts the same way, as a temporary mandate '15 days to [slow the spread],'" Kyle Wilkens, a parent in Silver Spring, told The Epoch Times. "I can't go through this again, my child is not wearing a mask to school."
Ms. Wilkens believes the mandate will be extended, though it is set to expire by Sept. 15.
"The media is already doing its part to fear monger. Now, they are trying to soften us up with scattered mask guidance and requirements here and there. We know from before it will escalate."
Others in the area believe the temporary mask mandate is a good idea to prevent transmission of the coronavirus in the community.
"It's better than getting stuck at home for 10 days or feeling miserable and getting stuck at home," Marlene Tay of Montgomery County, Maryland, told The Epoch Times.
"We all got COVID last year after some school cases. It was awful because of course our daughter was fine while we felt sick. I expect to get sick soon. Our neighbors just had their third case a few weeks ago. All the kids are getting fevers and sore throats even though it's not usually COVID, (yet)."
In other parts of the country, mask mandates have also been issued and lifted. Morris Brown College in Atlanta, Georgia, ended its mask mandate after two weeks. As did Lionsgate film studios and Kaiser Permanente in California after briefly putting a mandate in place.
"Thank god I live in Florida," Tammy Contreraz of Tampa Bay told The Epoch Times. "I don't have to deal with all these confusing rules on mandates."
Health Officials Split on Masking
The CDC has issued some recommendations for masking by county based on hospital admission rates, categorizing admission levels as green, yellow, and red (low, medium, and high).
Advertisement – Story continues below
If hospitalization rates for COVID are at the yellow (medium) or red (high) level, when there are 10 to more than 20 new admissions per 100,000 people in a county, the CDC recommends wearing a mask while indoors or in a public space.
"I think it's smart guidance, masks are effective at limiting any airborne pathogen but only if worn consistently, especially in crowded spaces and close contact areas," Santiago Mercado, an Emergency Room Nurse at Elmhurst Hospital in Queens, New York, told The Epoch Times.
"I don't know how well people will comply with the guidance, but it can absolutely protect the public and improve preventable deaths."
Mr. Mercado worked at intensive care units in hospitals across the New York City area during the pandemic in 2020 and has seen how quickly COVID can spread—inundating healthcare facilities.
"It was like a brush fire; so many people were dying every day. Anything we can do to prevent that again, I support," he said.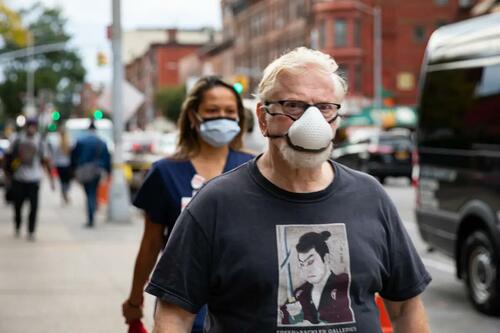 Healthcare professionals on the other side of the issue disagree and say masking has no significant benefit to avoiding infection by the coronavirus.
"The CDC's own data reveals that those who wear masks get infected with COVID at the same rate as those who don't," according to an analysis from Americas Frontline Doctors posted on their website.
"85 percent of those infected with COVID wore masks some or all of the time before their infection. The countless jurisdictions that mandated masks actually saw an increase in infections during the mandate. A key randomized, controlled study of mass masking during the COVID outbreak, concluded that wearing a mask had no significant effect on viral spreading."
The organization goes on to report that even if masks were effective, there are negative impacts of continuous mask-wearing, such as a "decrease in the levels of oxygen intake, headaches, Mask-Induced Exhaustion Syndrome (MIED), reduced immunity germ load and skin reactions."
Governors on Mask Mandates
There are no statewide mask mandates across the country so far, though in New York, Gov. Kathy Hochul (D) unveiled a plan to distribute N-95 and KN-95 masks to schools this fall but is not mandating their use.
"Thanks to the hard work of New York schools, teachers, and parents, we have come a long way to ensure students can safely return to the classroom," Ms. Hochul said. "Frequent testing for COVID-19 is an important part of keeping our kids safe and preventing an outbreak, and I will continue working to ensure our school districts have the resources they need to provide a safe, in-person learning environment for our students."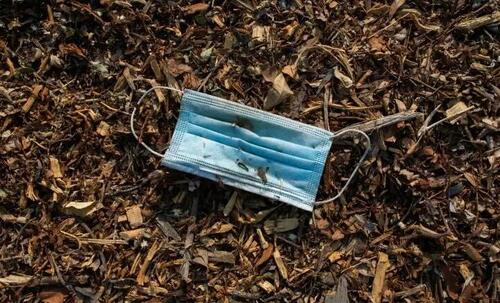 A discarded face mask is pictured on the sidewalk in Long Beach, Calif., on Aug. 22, 2020. (Apu Gomes/AFP via Getty Images)
In Mississippi, Gov. Tate Reeves (R) has made his opposition to masking abundantly clear, stating there will be no mask mandates in the near future.
"There are some on the left that still want COVID restrictions… Let me say it again – there will be no mask mandates, COVID vaccine mandates, or lockdowns in Mississippi," Reeves posted on Facebook.
"Mississippians will not and should not submit to fear again … If you want to take extraordinary measures to protect yourself from getting sick, God bless you. That is your right and you should do what you think is best. Maybe you're the smartest of all of us. But we are never going back to 2020."
Fight Over Mandates on Capitol Hill
The split over mask mandates has spilled into politics in the nation's capital, as some Republicans in Congress introduced legislation to ban a mandate of any kind.
Senators JD Vance (R-Ohio), Mike Braun (R-Ind.), and Josh Hawley (R-Mo.) have cosponsored a Senate bill called the "Freedom to Breathe Act" which would ban federal mask mandates in the United States.
"We tried mask mandates once in this country. They failed to control the spread of respiratory viruses, violated basic bodily freedom, and set our fellow citizens against one another," said Vance.
"This legislation will ensure that no federal bureaucracy, no commercial airline, and no public school can impose the misguided policies of the past. Democrats say they're not going to bring back mask mandates – we're going to hold them to their word."
The White House issued a "100 Day Masking Challenge" in 2021, where President Joe Biden implemented a mask mandate on federal property, but the administration has not issued a new nationwide mandate since.
Loading…
(Visited 1 times, 1 visits today)