Update (2320ET): For the first time in history that the 146,000-member union has simultaneously gone on strike against Ford, General Motors(GM) and Stellantis, according to Reuters.
"Tonight, for the first time in our history, we will strike all three of the Big Three at once," UAW President Shawn Fain says.
The @UAW has made it loud and clear to The Big 3: Sept. 14, at midnight, is a DEADLINE.

One hour, 45 minutes to go. pic.twitter.com/k9flCRIzxt

— AFL-CIO ✊ (@AFLCIO) September 15, 2023
UAW President Shawn Fain announced that the strike would begin on Friday at three plants:
GM's midsize truck and full-size van plant in Wentzville, Missouri;

Ford's Ranger midsize pickup and Bronco SUV plant in Wayne, Michigan; and

Stellantis' Jeep plant in Toledo, Ohio
…while not yet committing to a complete strike for all its members.
Pro-union President Biden is walking a very thin line.
Even though the president and other officials in his administration have repeatedly said they're not concerned about impending labor action, the Washington Post reports Biden officials "are preparing economic measures to protect suppliers to the auto industry from long-term damage." 
People familiar with internal conversations said the White House is very concerned about the strike that could "wipe out the thousands of suppliers" critical for Ford, General Motors, and Stellantis' complex supply chains. The chaos at the supplier level "could impede the broader US auto supply chain even after the possible strike ends," the people said.  
The type of support being offered is unclear, but one possibility could be in the form of grants via the Labor Department to assist workers at firms affected by strikes. Another option could be loans to these firms supplied by the Small Business Administration. 
"The administration wants to be sure to do what it can to protect the Detroit supply chains," one of WaPo's sources said, adding, "They have to worry about how some of the less well-capitalized firms could be at risk."
If these sources are correct, it would contradict the president who stated ten days ago while at his luxurious beach house in Rehoboth beach: "I'm not worried about a strike. I don't think it's going to happen." On Monday, Deputy Treasury Secretary Wally Adeyemo reaffirmed Biden's position that 'strikes will be averted'.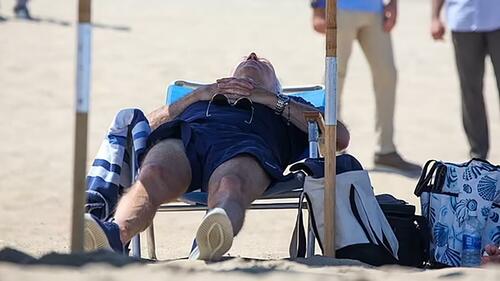 On Wednesday, UAW boss Shawn Fain told members in a Facebook Live event that talks with General Motors, Ford, and Stellantis were still 'far apart' and, "We are preparing to strike these companies in a way they've never seen before."
This week, UAW dropped their wage hike demand from 40% to 36%, but even then, that's still far off from auto companies offers:
Ford is proposing a 20 percent raise over 4½ years, up from its initial offer of 9 percent. General Motors is offering an 18 percent raise over 4½ years, up from 10 percent earlier. And Stellantis, the parent company of Jeep and Chrysler, is offering 17.5 percent raises over that same time period, up from 14.5 percent. -WaPo
Fain said a strike would begin in a "select few" manufacturing plants to keep automakers guessing where the next labor action will emerge:
"This is going to create confusion for the companies. It's going to keep them guessing on what might happen next, and it's going to turbocharge the power of our negotiators." 
The union boss has a 2200 ET Facebook Live Event scheduled for tonight.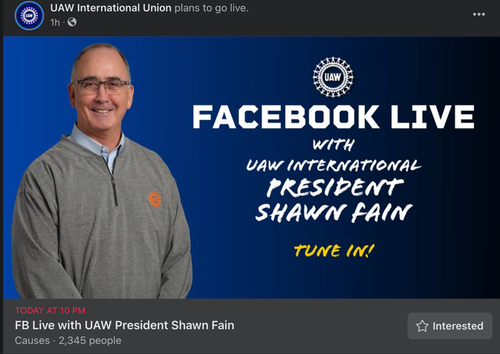 Last week, Bank of America Securities warned clients that a "strike is almost guaranteed." 
Loading…
(Visited 4 times, 1 visits today)