Here's how it's going…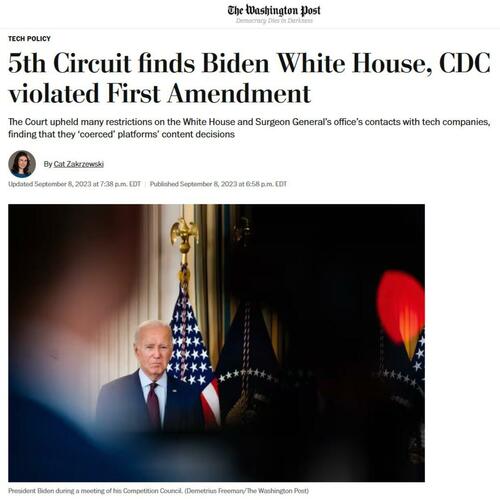 The 5th Circuit Court of Appeals ruled on Friday that several Biden administration officials had likely breached the First Amendment by pressuring social media companies to moderate or take down content they deemed problematic.
And here is Exhibit A of that First Amendment-crushing coercion and collusion… which obviously began in the Trump-era under Anthony Fauci. zh was banned from Twitter one day after this email.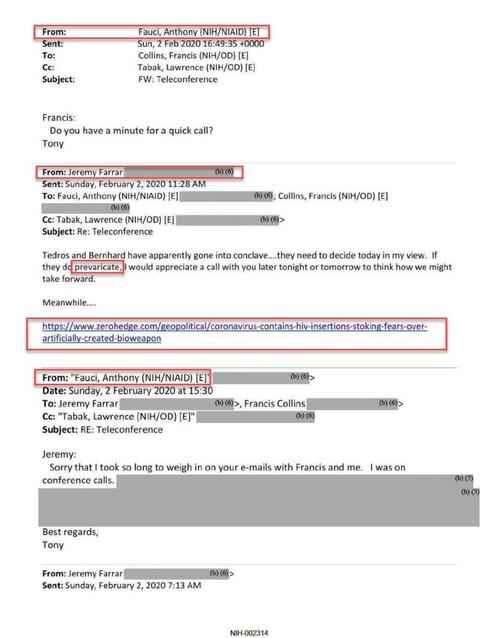 In an unsigned 75-page opinion, three 5th Circuit judges agreed with the plaintiffs that the administration "ran afoul of the First Amendment" by at times threatening social media platforms with antitrust action or changes to law protecting them from liability.
However, as The Epoch Times' Aldgra Fredly reports, the three-judge panel of the New Orleans-based 5th U.S. Circuit Court of Appeals narrowed much of an injunction issued by a Louisiana judge that restricted Democratic President Joe Biden's administration from communicating with social media companies.
The court said that the White House, Surgeon General, Centers for Disease Control and Prevention (CDC), and the FBI "likely coerced or significantly encouraged social media platforms to moderate content" in violation of the First Amendment.
"It is true that the officials have an interest in engaging with social media companies, including on issues such as misinformation and election interference," the three-judge panel said in a 74-page ruling (pdf) on Sept. 8.

"But the government is not permitted to advance these interests to the extent that it engages in viewpoint suppression," they added.
The court found that the officials made "express threats" and "inflammatory accusations" by saying that the platforms were "poisoning the public" and "killing people." The platforms were told they needed to take "greater responsibility and action."
"Then, they followed their statements with threats of 'fundamental reforms' like regulatory changes and increased enforcement actions that would ensure the platforms were 'held accountable'. But, beyond express threats, there was always an unspoken 'or else,'" it added.
The court also said the officials encouraged social media platforms to moderate content by "exercising active, meaningful control over those decisions," particularly concerning the platforms' moderation policies.
According to the ruling, the FBI "regularly met with the platforms, shared 'strategic information,' frequently alerted the social media companies to misinformation spreading on their platforms, and monitored their content moderation policies."
"But, the FBI went beyond that—they urged the platforms to take down content. Turning to the Second Circuit's four-factor test, we find that those requests were coercive," it added.
The judges emphasized that the government cannot supervise a platform's content moderation decisions and cannot impose "legal, regulatory, or economic consequences" if they refuse to comply with a given request.
"Social media platforms' content-moderation decisions must be theirs and theirs alone," the court asserted.
The attorneys general of Louisiana and Missouri, along with several social media users, had sued last year, saying Facebook, YouTube, and Twitter engaged in censorship as a result of repeated urging by government officials and threats of heightened regulatory enforcement.
The lawsuit said the censored views included content questioning anti-COVID-19 measures such as masks and vaccine mandates and allegations of election fraud.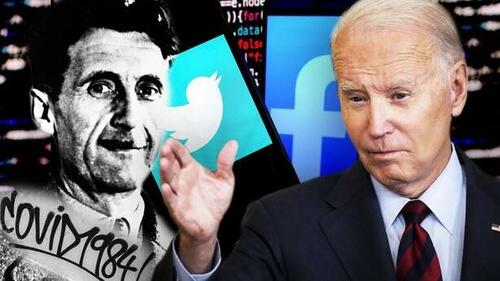 But the court excised much of U.S. District Judge Terry Doughty's broad July 4 ruling, saying mere encouragement to take down content doesn't always cross a constitutional line.
"As an initial matter, it is axiomatic that an injunction is overbroad if it enjoins a defendant from engaging in legal conduct. Nine of the preliminary injunction's ten prohibitions risk doing just that. Moreover, many of the provisions are duplicative of each other and thus unnecessary," the ruling said.
The ruling also removed some agencies from the order, namely the National Institute of Allergy and Infectious Diseases, the Cybersecurity and Infrastructure Agency, and the State Department.
Missouri Attorney General Andrew Bailey said they filed the lawsuit against dozens of officials in the federal government "to halt the biggest violation of the First Amendment in our nation's history."
"The first brick was laid in the wall of separation between tech and state on July 4. Today's ruling is yet another brick," he said in a statement.

"Missouri will continue to lead the way in the fight to defend our most fundamental freedoms."
In a posting on X, Louisiana Attorney General Jeff Landry called Friday's ruling "a major win against censorship."
Loading…
(Visited 6 times, 1 visits today)