Blue city debates $750 million 'climate investment' amid rampant homelessness, crime, drugs. Aim is 'advancing an equitable, climate-resilient' region
For those of you who haven't taken notice, Portland, Oregon, is a mess.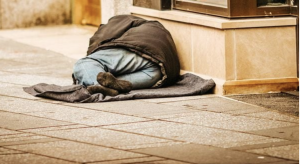 Homelessness is rampant. So are open-air drug use and overdoses. Antifa radicals still maintain a notable presence in the city. Crime is so bad that even the company most people associate with the state of Oregon — Nike — is closing one of its stores in Portland because safety and shoplifting concerns have made its continued operation impossible.
So, the City Council is all set to do something and put $750 million behind it. Except the money won't address crime or homelessness or drug abuse. Oh, no. Instead, the council is spending three-quarters of a billion dollars on "advancing an equitable, climate-resilient Portland."
"Portland voters passed the 'Portland clean energy community benefits fund program' in November of 2018. The goal is to invest money in community-based projects that address climate change over the next five years," KPTV-TV reported Thursday.
"This plan represents thousands of hours of engagement by numerous stake holders and sectors," Portland City Commissioner Carmen Rubio said. "And prioritizes programs that reduces greenhouse gas emissions and strengthens the communities that are hit first and hardest by extreme climate events."
Unless "fentanyl" and "robbery" count as "extreme climate events," I think the residents of Portland might be less than impressed by the allocation of resources here.
Alas, a quick readthrough of the second issue of a newsletter by the Portland Clean Energy Community Benefits Fund (or PCEF, because apparently Portland is as good at acronyms as it is at controlling crime, homelessness and drug use) indicates that's not the case.
"Guided by the needs of our community, PCEF will invest more than $750 million in projects that will make Portland a safer, healthier, more prosperous place to live today and for generations to come," the short newsletter read.
"These projects include:
"• Improving and electrifying our transportation system.
"• Making cost-saving, clean energy upgrades accessible to those hit first and worst by climate change.
"• Planting more trees and greenery in the neighborhoods most vulnerable to heat.
"• Supporting a more diverse workforce in green career pathways.
"These investments help ensure our most impacted residents are prepared for a changing climate as we support the City's goal of net-zero carbon emissions by 2050."
This is the progressive piffle a proposed $750 million is going toward.
Keep in mind, this is a city that the Los Angeles Times, hardly a bastion of covert conservatism, published a story about in February titled thusly: "What's the matter with Portland? Shootings, theft and other crime test city's progressive strain."
In order "to understand the schism that dominates the political and social landscape in this famously liberal city," reporter Jenny Jarvie interviewed one resident of a blue-collar neighborhood there, Flora Gonzalez.
"The 40-year-old package handler for FedEx said that people have openly dealt drugs and urinated on the sidewalk outside her family's duplex. They've dumped feces and used syringes in her manicured yard, played booming music at 3 a.m. and stripped stolen cars for parts. Shots have been fired behind her children's bedroom," the report said.
"We feel abandoned," Gonzalez told the Times. "We pay our taxes and the police are not watching over our security."
Of course, there are two sides to every story, and one side lived right across the street from Gonzalez: Juniper Simonis, 38, is an environmentalist, data scientist and left-wing activist. In her yard is a sign that reads: "DISARM, DEFUND, DISMANTLE POLICE."
"An activist who marched downtown in 2020, Simonis said the problem is not that Portland is too liberal, but that it is not liberal enough. 'There's a lack of resources, and I think of being liberal in terms of spending money to provide support services,' Simonis said. 'Trying to regulate homelessness out of a city, I don't view that as liberal at all.'"
Well, the problem is that even if that model were to work — and it wouldn't, but let's just play pretend here — you'd need money to do that. And, as the Times pointed out, "three years after pandemic lockdowns emptied out the city's core and protests against police brutality turned a few downtown blocks into a battleground, this city of about 641,000 is dealing with skyrocketing numbers of homeless people, soaring crime and strikingly high levels of public dissatisfaction with what the city is doing about it."
The homelessness numbers provide the most jarring example of how far Portland has fallen into the mire. According to the city's website, "thousands of people are living unsheltered on our streets. Overall homelessness in Portland increased by 65% from 2015 to 2023 (from 1,887 to 6,297 individuals)."
And what happens after the chickens come home to roost like this? The law-abiding half of the equation, progressives though they may be, start looking for other places to live, putting a higher tax burden on people like Simonis who think things aren't liberal enough. The tax base to provide those "support services" drops precipitously, and homelessness and crime get even worse. Wash, rinse, repeat.
And this is counting on half of the upstanding citizens sticking around. A poll conducted in 2022 found only 11 percent of Portland's voters thought the city was headed in the right direction. That's compared with 36 percent in the annus horribilis of 2020 and 76 percent in 2000.
But the important thing is that three-quarters of a billion dollars is being spent to make Portland "climate-resilient."
And the people behind this think that not only will it help solve the city's climate problems, whatever they may be, but it also will be the cure to whatever else ails the Pacific Northwest metropolis.
"We're unveiling our inaugural five-year climate investment plan which sets the stage for the investments that PCEF is going to be making over the next five years, totaling almost nearly three-quarters of a billion dollars into climate projects that address racial justice, social justice and economic justice." Portland Clean Energy Fund program manager Sam Baraso told Oregon Public Broadcasting in August.
Right. Good luck with that — and with getting enough people to stick around to contribute their tax dollars in order to pay for this preposterous scheme.
(Visited 1 times, 1 visits today)