"Vol is aloof again," notes Nomura's Charlie McElligott as he reflects on the state of the market ahead of this afternoon's FOMC statement and presser, confirming the trend we discussed earlier of realized vol (variance) coming in below implied vol day after day after day.
VIX is back below 14 ahead of 'the event'…
Much of this 'lack of fear itself' appears to be driven by the market's growing acceptance of The Fed's "higher for longer" narrative (and the reduction in expectations that The Fed being 'done' hiking means they'll be cutting soon).
As McElligott notes, the socialization of "high for longer" as data and consumer / labor remain resilient has pushed rates projections for '24 / '25 (and / or the longer-run median dot) higher as "Fed Cuts" are pushed further-out.
As a reminder, SFRZ3-4 has already gone from -162.5bps since mid July to -93bps as of this morning, and Z3-Z5 from -206.5 mid July to -158 today…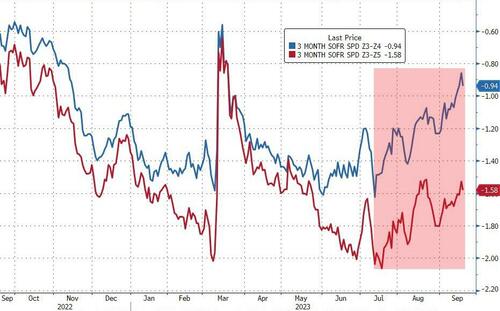 Source: Bloomberg
In other words, a lot of the re-pricing of '24 / '25 has already occurred, which means a lot of the uncertainty being removed from Vol / front-end.
All of which plays into what the Nomura strategist describes as the "sell the prem, live the dream" dynamic that has dominated intraday flows (and PnL) for months.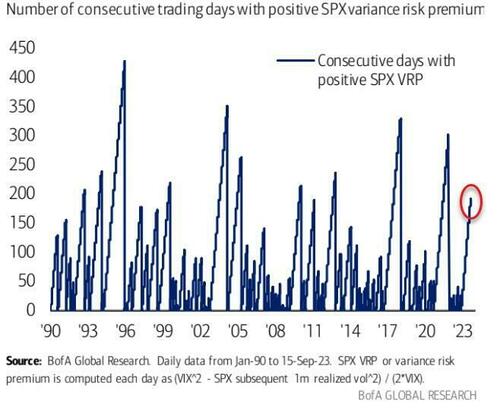 And all the index and single-name Vol selling simply means that Dealers remain "stuffed on Gamma" – hence the afternoon equities rally back off morning lows yesterday, as hedging flows saw Delta bought, which ultimately dragged SPX back near "unch" ~ 4500 by EOD like a tractor-beam.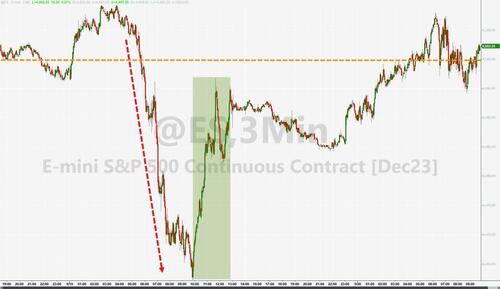 And from this Options positioning perspective, McElligott sees no real opportunities for excitement via "Dealer accelerant flow" unless we vacuum down through 4400.

And this is where we stand into today's statement.
What will happen next?
The Nomura MD sees two scenarios:
1. Sure, from a "Spot Equities" perspective, some sort of "hawkish" surprise (i.e. the risk that the 2024 dot moves up more than the current +25bps consensus – or, theoretically, "hawkish BoJ" surprise perhaps moreso) – are scenarios which would likely risk pushing Index lower from here and embolden Bears…

…even though I see a "hawkish" outcome as low probability, as the Fed has the world (and the data) at their fingertips right now, and should instead simply maintain optionality without an overtly "anything" message.

2. HOWEVER, the largest "Vol Squeeze" risk today might counter-intuitively be from any "DOVISH Fed" surprise…

…say a hypothetical scenario where the '24 / '25 rates projections or longer-run median dot do NOT move higher – because we continue to see higher realized Vol on "UP" days across US Index than "DOWN" days…

ESPECIALLY in-terms of "the" market leadership driver Nasdaq / MegaCap Tech, where Nasdaq "down day" rVol spread "up day" rVol is outright NEGATIVE to levels we haven't seen previously – i.e. positive Spot-Vol correlation persists.
So what is the catalyst for a vol acceleration that squeezes out some of this "Short Vol" flow? 
In the medium-term, McElligott says we would need an economic "Tail" (which appropriately looks utterly low-Delta over the next two-three months of visibility at the very least).
Either an inflation upside shock (which would get Fed terminal rates moving higher again, when the market thinks we are already there)…

or

A surprise back into "Hard-Landing" after everybody has capitulated into "Soft-Landing" over recent months, which maybe looks like labor finally rolling-over with a negative NFP shock, which then inevitably then means that the market suddenly goes "growth scare" and pulls-forward the US consumer then finally cracking, as data resiliency finally then mushes.
But, that's not happening today.
Today, as SpotGamma notes, we're looking for the SPX to shift to one of two large gamma zones after Powell's presser this afternoon:
to the upside its SPX 4,500 Call Wall,

to the downside its the 4,400 – 4,417 Put Wall(s) area.
We flag the SPY 440 Put Wall in particular (4,417 SPX), as its holds a very large gamma notional, as shown below.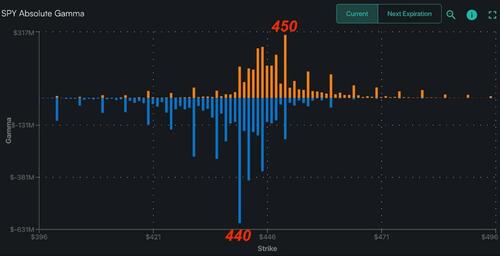 This level was also the low in yesterday's session.
Loading…
(Visited 1 times, 1 visits today)