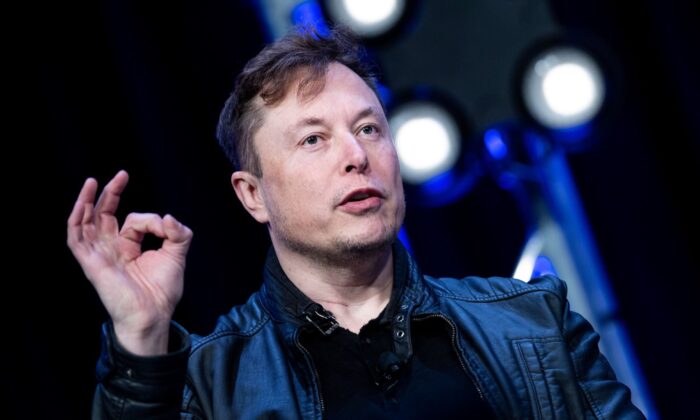 Elon Musk, founder of SpaceX, speaks during the Satellite 2020 at the Washington Convention Center in Washington on March 9, 2020. (Brendan Smialowski/AFP via Getty Images)
Elon Musk has threatened to "name and shame" brands that have either vocally or quietly pulled their ads from Twitter following Musk's takeover of the social media platform and firing of around half of its staff.
Barely a week into his ownership of Twitter, which he has called a "digital town square" where a broad range of ideas can be debated "in a healthy manner, without resorting to violence," a number of companies have suspended their advertising, some quietly.
Major brands including General Mills, General Motors, and United Airlines have gone public with their decisions to suspend ad spending on Twitter, while others appear to be "quiet quitting."
Executives at some of the world's biggest advertising groups reportedly told the Financial Times that some of their clients were privately considering pulling ads from Twitter or had already done so without making any public statements to that effect, apparently to avoid courting controversy.
"There's some quiet quitting going on," one ad executive told the Financial Times anonymously.
'Thermonuclear Name & Shame'
Musk said in a post on Twitter that "activist groups pressuring advertisers" had led to a "massive drop in revenue" as the company engages in mass layoffs.
"Twitter had a massive drop in revenue, due to activist groups pressuring advertisers, even though nothing has changed with content moderation and we did everything we could to appease the activists," Musk wrote.
"Extremely messed up! They're trying to destroy free speech in America," he added.
Responding to Musk's tweet was Federalist Society fellow Mike Davis, who urged the Twitter chief to "name and shame the advertisers who are succumbing to the advertiser boycotts. So we can counter-boycott them."
Musk replied: "Thank you. A thermonuclear name & shame is exactly what will happen if this continues."
'Wait-and-See'
Some companies are adopting a "wait-and-see" approach, according to Martin Sorrell, founder of advertising giant WPP and chairman of S4 Capital, in remarks at the Web Summit in Lisbon, Portugal, earlier in the week.
At the same time, a coalition of over 40 advocacy groups wrote an open letter (pdf) to some of Twitter's leading advertisers calling for an ad boycott if Musk "follows through on his plans to undermine brand safety and community standards including gutting content moderation."
Even President Joe Biden piled on with criticism, saying at a Democratic fundraiser on Friday that "we are all worried" that Musk—a self-avowed free speech "absolutist"—bought a platform that "spews lies across the world."
Musk, for his part, insisted in an open letter of his own that he would not allow the platform to become a "free-for-all hellscape" where anything could be said "with no consequences."
"In addition to adhering to the laws of the land, our platform must be warm and welcoming to all," Musk wrote.
He later said in a post on Twitter that the company remains committed to moderating content.
"To be crystal clear, Twitter's strong commitment to content moderation remains absolutely unchanged," he wrote.
"In fact, we have actually seen hateful speech at times this week decline *below* our prior norms, contrary to what you may read in the press," he added.
Moderation Actions Have 'Stayed Steady'
Twitter's head of safety and integrity Yoel Roth said in a tweet thread on Friday that the daily volume of content "moderation actions" that Twitter has taken has "stayed steady."
"With early voting underway in the U.S., our efforts on election integrity—including harmful misinformation that can suppress the vote and combatting state-backed information operations—remain a top priority," Roth wrote, adding that the layoffs Musk announced earlier only impacted around 15 percent of Twitter's Trust and Safety group.
"While we said goodbye to incredibly talented friends and colleagues yesterday, our core moderation capabilities remain in place," Roth added.
Even before he bought Twitter for around $44 billion, Musk hinted at job cuts, telling employees at a town-hall meeting this summer that there needs to be "a rationalization of headcount" at Twitter.
More recently, Musk defended his decision to go ahead with mass layoffs by saying that he had "no choice" as Twitter was losing over $4 million per day.
"Everyone exited was offered 3 months of severance, which is 50% more than legally required," Musk added.
(Visited 1 times, 1 visits today)