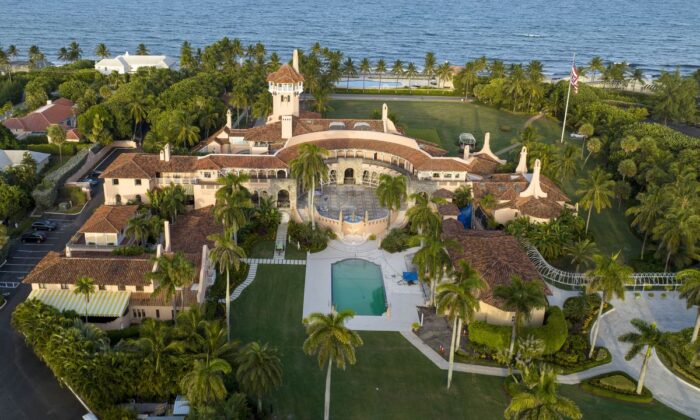 An aerial view of Donald Trump's Mar-a-Lago resort in Florida. (Steve Helber/AP Photo)
The affidavit that convinced a federal judge to approve a search warrant for former President Donald Trump's home will be unsealed by Aug. 26 at noon, the judge said on Aug. 25.
U.S. Magistrate Judge Bruce Reinhart said he reviewed redactions to the affidavit proposed by the government and found they were proper.
"I find that the Government has met its burden of showing a compelling reason/good cause to seal portions of the Affidavit because disclosure would reveal (1) the identities of witnesses, law enforcement agents, and uncharged parties, (2) the investigation's strategy, direction, scope, sources, and methods, and (3) grand jury information protected by Federal Rule of Criminal Procedure 6(e)," Reinhart said in a two-page order.
"Based on my independent review of the Affidavit, I further find that the Government has met its burden of showing that its proposed redactions are narrowly tailored to serve the Government's legitimate interest in the integrity of the ongoing investigation and are the least onerous alternative to sealing the entire Affidavit," he added.
Reinhart ordered the government to make public the version of the affidavit with the redactions.
The U.S. Department of Justice didn't immediately respond to a request for comment.
Government officials had argued that the document should remain sealed because it needed so many redactions that the resulting product wouldn't enlighten the public with substantial information about the Aug. 8 raid of Mar-a-Lago, Trump's property in Palm Beach, Florida.
Media outlets and nonprofits countered by saying that the document should be released because of the strong public interest in the unprecedented raid, even if some redactions were made.
Trump has called publicly for an unredacted version of the affidavit to be released, although his lawyers haven't formally submitted such a request to the court.
Other materials related to the search have already been made public, including the warrant itself and an FBI inventory of items taken from Mar-a-Lago.
Those materials show the search was predicated on possible violations of three U.S. laws, including the Espionage Act.
Agents removed classified materials from Trump's home and other classified items were previously transferred to the U.S. archivist, triggering an FBI review. Trump has maintained that he declassified the materials before he left office.
(Visited 11 times, 1 visits today)