Dr. Malone accused the FDA of flouting its own rules and "going rogue" by green-lighting updated COVID-19 vaccines with limited clinical trial data.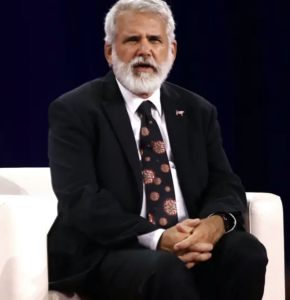 Dr. Robert Malone, inventor of mRNA vaccines,
The Food and Drug Administration (FDA) has "gone rogue," according to virologist Dr. Robert Malone, who accused the federal agency of sacrificing its own rules and regulations with its decision to recommend the latest batch of COVID-19 boosters, which only have limited clinical trial data attesting to their efficacy and safety.
Dr. Malone made the remarks in an
interview with
 EpochTV's "Crossroads" program on Sept. 11, the day that the FDA cleared new COVID-19 vaccines in a bid to counter the waning effectiveness of the currently available shots.
"It's difficult to conclude anything other than the FDA is no longer feeling bound by their own rules and regulations," Dr. Malone said. "The term is—they've gone rogue."
Dr. Malone objected to the lack of clinical trial data on humans demonstrating effectiveness and safety of the updated vaccines, arguing that should preclude their approval by the FDA.
He said that, essentially, the FDA allowing the new vaccines to be used under an emergency use authorization on the premise that "neutralizing antibodies as detected in mice and their cross-reactivity are a correlative protection—That's a lie. There are no established correlates of protection for SARS-CoV-2."
FDA officials didn't respond by press time to a request by The Epoch Times for comment.
The agency recommended Moderna's and Pfizer's newest mRNA vaccines on
Sept. 11
 without strong data from human trials.
However, in a
statement announcing
 its approval, the FDA said that the decision was supported by its evaluation of "manufacturing data" from vaccine producers and "non-clinical immune response data on the updated formulations including the XBB.1.5 component."
The benefit-risk profile of previously approved mRNA COVID-19 vaccines is "well understood," the FDA said, adding that the similar manufacturing process for the updated vaccines "suggests that the vaccines are a good match for protecting against the currently circulating COVID-19 variants."
Advisers to the Centers for Disease Control and Prevention (CDC) followed with their own recommendation
on Sept. 12,
urging nearly all Americans to get the new vaccines, which will be available to children as young as 6 months old this month.
Advertisement – Story continues below
The new vaccines target XBB.1.5, a sub-type of the Omicron variant of the SARS-CoV-2 virus, which causes the disease COVID-19. However, the XBB.1.5. subvariant has already largely been displaced by newer strains of the quickly evolving virus, including EG.5, according to the CDC.
'Lot of Red Flags'
"There's essentially no data," Florida Surgeon General Dr. Joseph Ladapo said at a recent news conference, where he suggested that people might be better off passing on the new round of shots.
"Not only that, but there are a lot of red flags," Dr. Ladapo added, while pointing to
studies
finding
 that the effectiveness of the vaccines turns negative over time.
"There's been no clinical trial done in human beings showing that it benefits people, there's been no clinical trial showing that it is a safe product for people."
He also noted that studies have linked previous versions of the COVID-19 vaccine to cardiac problems such as heart inflammation.
"It's truly irresponsible for FDA, CDC, and others to be championing something … when we don't know the implications of it," Dr. Ladapo said.
Asked to comment on Dr. Ladopo's remarks, Dr. Malone pointed to a growing body of studies that show negative vaccine effectiveness, which he said suggests that, in the risk-benefit analysis, "there's no discernible benefit, or there's negative benefit, but there's clearly risk."
'Most Americans Take Them'
While acknowledging the current vaccines' waning effectiveness, CDC Director Mandy Cohen penned an op-ed in The New York Times on Sept. 13, in which she called the updated COVID-19 vaccines "one of the most effective tools in combating the virus."
"Covid-19 vaccines are the best way to give the body the ability to keep the virus from causing significant harm. Extensive studies and real-world experience have shown that they are safe and they work," she wrote. "And most Americans take them."
Dr. Cohen said the vaccines were put through extensive clinical trials before they were introduced in 2021 and "since then, their safety has been intensely monitored."
She didn't address criticism, such as that the updated vaccines haven't been subjected to clinical trials.
In its green-light statement, the FDA said it's "confident in the safety and effectiveness of these updated vaccines and the agency's benefit-risk assessment demonstrates that the benefits of these vaccines for individuals 6 months of age and older outweigh their risks."
That FDA endorsement, however, stands in contrast to remarks made by Dr. Paul Offit, an FDA adviser, who suggested to the UK's 
Daily Mail
that younger, healthy people who have already been vaccinated don't need one of the new doses.
"We are best served by targeting these booster doses to those who are most at risk of severe disease," such as people older than 75, Dr. Offit said. "Boosting otherwise healthy young people is a low-risk, low-reward strategy."
In his remarks at the news conference, Dr. Ladapo asked people to make decisions based on their "resonance of truth" rather than depending on "very educated people telling you what you should think."
"When they try to convince you to be comfortable and agree with things that don't feel comfortable and don't feel like things you should agree with, that's a sign … And I encourage you and certainly beg and hope that you do listen to it, because it will serve you right," he said.
A January–July 2023
study
that analyzed data from 33 California state prisons found that individuals who received new COVID-19 booster shots were more likely to contract COVID-19 compared to those who didn't receive the jabs.
The infection rate among the group that received the bivalent booster shots came in at 3.2 percent—higher than the 2.7 percent among the unvaccinated.
Late last month, the CDC
conceded
 that the new BA.2.86 strain can cause infection even among people who have previously been vaccinated against COVID-19.
"The large number of mutations in this variant raises concerns of greater escape from existing immunity from vaccines and previous infections compared with other recent variants," the agency said in its assessment.
Zachary Stieber contributed to this report.
(Visited 3 times, 1 visits today)