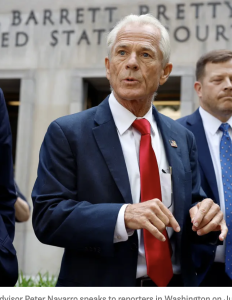 WASHINGTON—A federal jury in Washington has convicted former Trump aide Peter Navarro of two misdemeanor counts of contempt of Congress for refusing to comply with a congressional subpoena.
The jury verdict in federal court came late in the afternoon of Sept. 7 after a few hours of deliberation. The trial began with jury selection on Sept. 5.
Mr. Navarro, who was President Donald Trump's White House trade adviser, did not appear to react when the verdict was read.
Citing the presence of protesters outside the courthouse, Mr. Navarro's attorney, Stanley Woodward of Brand Woodward Law in Washington, promptly moved for a mistrial before Judge Amit Mehta, who was appointed by President Barack Obama in 2014.
A protester was "accosting" his client, Mr. Woodward told the judge.
The judge did not rule on the mistrial motion before the court was adjourned.
Protesters, both for and against Mr. Navarro, were present outside the courthouse after the verdict was delivered.
The Epoch Times reached out to Mr. Navarro's legal team at the courthouse but its members declined to comment.
Mr. Navarro was 
indicted for contempt of Congress
 in June 2022 for failing to comply with a subpoena from the Jan. 6 Select Committee that existed during the life of the previous Democrat-controlled U.S. House of Representatives. He pled not guilty to the charges.
One count stemmed from Mr. Navarro's failure to produce documents the select committee requested; the other, from his failure to appear to provide testimony at a deposition. He could be sentenced to as much as a year in prison and fined up to $100,000.
Sentencing was scheduled for Jan. 12, 2024, at 2:30 p.m.
Mr. Woodward said on Sept. 6 that he was prepared to file an appeal if his client were convicted.
The committee was investigating the security breach at the U.S. Capitol on Jan. 6, 2021, which delayed congressional certification of the 2020 presidential election by a few hours. The panel reportedly wanted to ask Mr. Navarro about a "Green Bay Swamp" plan that he detailed in a book he wrote after leaving the Trump administration. The plan called for delaying Congress from certifying Democrat Joe Biden as the winner of the election.
The charges were referred to the U.S. Department of Justice following a series of party-line votes in the then Democrat-run House. U.S. Attorney General Merrick Garland decided to formally institute the charges that worked their way through the federal court system.
Critics have denounced the congressional committee as one-sided and politically-motivated. The committee subpoenaed a litany of former President Donald Trump's former White House aides, including Mr. Navarro and former strategist Steve Bannon.
A federal jury found Mr. Bannon guilty in July 2022 of one contempt count based on his refusal to appear for a deposition and another count related to his refusal to produce documents subpoenaed by the committee. He was sentenced to four months of incarceration and ordered to pay a $6,500 fine. Mr. Bannon is appealing and has not begun serving his sentence.
Like others in the former president's orbit, Mr. Navarro failed to comply with the subpoena, arguing that his communications with the former president and his staff were covered by executive privilege, which a president can invoke to shield official documents.
But Judge Mehta last week
barred
Mr. Navarro from telling the jury that the executive privilege claim was behind his decision not to comply with the subpoena.
Judge Mehta questioned why Mr. Navarro could not explain precisely what the former president said during a February 2022 call during which Mr. Navarro claimed former President Donald Trump made clear he was invoking executive privilege.
"I still don't know what the president said," the judge said at the time. He added that the evidence backing the claims was "pretty weak sauce."
(Visited 1 times, 1 visits today)