Hunter Biden is suing a former Trump White House aide for publishing the contents of his infamous 'laptop from hell,' which contains all sorts of evidence against the Biden family, along with private photos, emails and text messages between the first son and his associates.
Yes, the same laptop that 51 former intelligence officials said had "all the classic earmarks of a Russian information operation," and which Antony Blinken (then a top Biden campaign official) had a 'central role' in discrediting after the New York Post reported that Hunter Biden exploited his father's position as then-VP foer personal gain.
According to a Wednesday night filing, Hunter Biden's legal team is suing Garrett Ziegler, who operates the website Marco Polo.
The 13-page lawsuit alleges that Ziegler and others violated federal and California privacy laws by "accessing, tampering with, manipulating, altering, copying and damaging computer data" gathered from Hunter Biden's purported laptop and iPhone cloud storage without consent.

The lawsuit details how Ziegler and unnamed defendants allegedly obtained sensitive materials by hacking into encrypted data on Hunter Biden's devices and uploading them to Ziegler's website, where it remains public. In the lawsuit, Hunter Biden's lawyers assert that the defendants had refused requests to "cease their unlawful activity" and return private data belonging to the president's son. –CBS News
In response, Ziegler told CBS News: "I nor the nonprofit, Marco Polo, have been served with a lawsuit — but the one I read this morning out of the Central District of California should embarrass Winston & Strawn LLP. It's not worth the paper it's written on," adding "Apart from the numerous state and federal laws and regulations which protect authors like me and the publishing that Marco Polo does, it's not lost on us that Joe's son filed this SLAPP one day after a so-called Impeachment Inquiry into his father was announced. The president's son is a disgrace to our great nation."
Earlier this year, Hunter Biden sued a Delaware-based computer repairman, John Paul Mac Issac, with whom Hunter abandoned his now-infamous laptop – the contents of which have been featured in multiple Congressional hearings.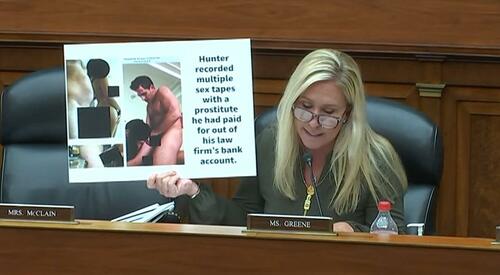 Last year Mac Isaac recalled to the New York Post about how Hunter Biden arrived at his shop in Wilmington, Delaware, in April 2019.
"I'm glad you're still open," Hunter Biden allegedly told him. "I just came from the cigar bar, and they told me about your shop, but I had to hurry because you close at seven."

"I need the data recovered off these, but they all have liquid damage and won't turn on," Mac Isaac recalled him saying.
Mac Issac maintains that he obtained the information from Hunter's laptop legally, and that Biden himself dropped it off in April 2019, never returning to claim it. In fact, says he walked into the Albuquerque FBI office, where he explained what he had, but was rebuffed by the FBI. He was told basically, get lost. This was mid-September 2019.
Two months passed and then, out of the blue, the FBI contacted John Paul Mac Issac. Two FBI agents from the Wilmington FBI office–Joshua Williams and Mike Dzielak–came to John Paul's business. He offered immediately to give them the hard drive, no strings attached. Agents Williams and Dzielak declined to take the device.
Eight months later, Isaac provided a copy to then-President Donald Trump's lawyer Rudy Giuliani, who provided a copy of the hard drive to The Post.
Last year, several FBI whistleblowers told Sen. Chuck Grassley (R-IA) that agents investigating Hunter Biden "opened an assessment which was used by an FBI headquarters team to improperly discredit negative Hunter Biden information as disinformation and caused investigative activity to cease," adding that his office received "a significant number of protected communications from highly credible whistleblowers" regarding the investigation.
Grassley added that "verified and verifiable derogatory information on Hunter Biden was falsely labeled as disinformation," according to the Washington Examiner.
Loading…
(Visited 3 times, 1 visits today)