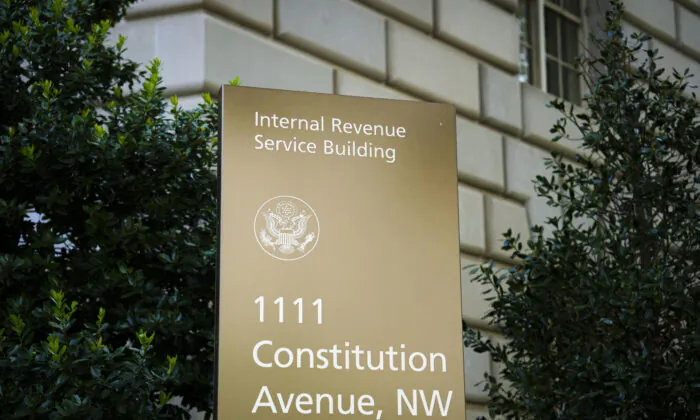 An insider at the Internal Revenue Service (IRS) has revealed himself by name for the first time after filing an anonymous whistleblower disclosure about the agency's handling of an alleged investigation into President Joe Biden's son, Hunter Biden.
Attorney Mark D. Lytle of Nixon Peabody LLP revealed the whistleblower complaint in an April 19 letter (pdf) to members of Congress. Since then, Lytle and the whistleblower advocacy group Empower Oversight have alleged retaliation against the then-unnamed IRS agent.
In an interview with CBS News that aired on Wednesday night, the IRS whistleblower revealed himself as Gary Shapley, a 14-year veteran of the agency.
Shapley, who identified himself as an IRS supervisory special agent, told CBS News that he was assigned to the investigation in January of 2020. In the latest CBS interview, Shapley said he could not specifically identify the subject of the investigation due to tax secrecy laws.
Neither Shapley nor his legal representatives have directly named Hunter Biden as the subject of what they've called an "ongoing and sensitive investigation of a high-profile, controversial subject." However, Empower Oversight has retweeted a CBS News report that named the president's son as the subject of the investigation.
In December of 2020, Hunter Biden did confirm that the U.S. Attorney's office in Delaware had been investigating his taxes.
"I take this matter very seriously, but I am confident that a professional and objective review of these matters will demonstrate that I handled my affairs legally and appropriately, including with the benefit of professional tax advisors," Hunter Biden said.
"First of all, my son has done nothing wrong," the president said in an interview earlier this month. "I trust him. I have faith in him."
Investigation 'Slow-Walked'
Lytle has said his client's disclosures would contradict sworn testimony to Congress by a "senior political appointee" and involve "failure to mitigate clear conflicts of interest." The lawyer said the disclosures show "examples of preferential treatment and politics improperly infecting decisions and protocols that would normally be followed by career law enforcement professionals in similar circumstances if the subject were not politically connected."
In his own comments to CBS News, Shapley said, "When I took control of this particular investigation, I immediately saw deviations from the normal process. It was way outside the norm of what I've experienced in the past."
In March, U.S. Attorney General Merrick Garland told the Senate Judiciary Committee that the U.S. Attorney in Delaware had full discretion in pursuing the Hunter Biden tax investigation and was "not restricted in his investigation in any way." Shapley, however, has claimed that, in his investigation, "there were multiple steps that were slow-walked—were just completely not done—at the direction of the Department of Justice."
Shapley said he had never experienced "deviations" from the investigative process like those he has seen in this case.
"And each and every time it seemed always to benefit the subject," he said.
Shapley said he ultimately filed a whistleblower complaint after an October 2022 meeting with federal prosecutors.
"It was my red-line meeting."
The IRS agent has admitted he is a registered Republican and that the groups supporting his allegations have past ties to the Republican party, but he said his decision to come forward was not motivated by politics.
"I don't want to do any of this. I took an oath of office and when I saw the egregiousness of some of these things, it no longer became a choice for me," he told CBS News. "It's not something that I want to do. It's something I feel like I have to do."
Retaliation Allegations
On May 15, about a month after Lytle initially notified Congress of the whistleblower allegations, the attorney raised new allegations that Shapley had been removed from the case along with the rest of his IRS investigative team.
"He has informed the change was at the request of the Department of Justice," Lytle and Empower Oversight President Tristan Leavitt wrote in a new letter (pdf) to Congress.
Lytle and Leavitt argued that the DOJ's decision to take Shapley off the case he was blowing the whistle on was "clearly retaliatory and may also constitute obstruction of a congressional inquiry."
Rep. Jason Smith (R-Mo.), who chairs the House Ways and Means Committee, sent a letter (pdf) to IRS Commissioner Daniel Werfel demanding answers on the new retaliation claims. Werfel denied intervening against Shapley.
"The IRS whistleblower you reference alleges that the change in their work assignment came at the direction of the Department of Justice. As a general matter and not in reference to any specific case, I believe it is important to emphasize that in any matter involving federal judicial proceedings, the IRS follows the direction of the Justice Department," Werfel told Smith in a letter obtained by Fox News.
(Visited 2 times, 1 visits today)