The trial will be about how much Trump needs to pay in damages, the judge wrote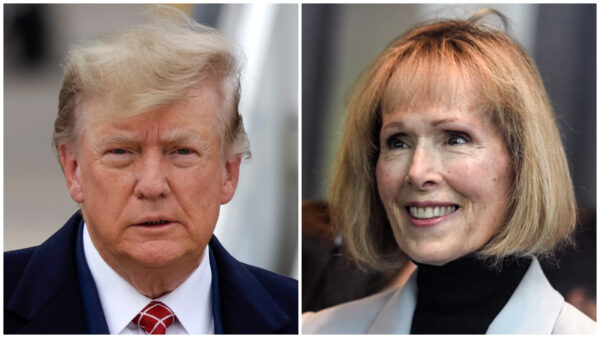 U.S. District Judge Lewis Kaplan ruled in a pretrial summary judgment that the upcoming Jan. 15, 2024, trial will only be about how much former President Donald Trump owes writer E. Jean Carroll in her defamation suit.
The partial victory was granted in a Sept. 6 order after the judge
denied
 a request from President Trump's attorneys to delay the trial in light of his ongoing criminal legal trials.
Ms. Carroll had brought two lawsuits against President Trump, one for defamation and the second for sexual battery and defamation in 2022 remarks, and won the second case earlier this year. The cases center around Ms. Carroll's public accusation in 2019 that he raped her in the mid 1990s at a department store. When he was in office, President Trump publicly refuted the accusation and claimed he had never met her. Ms. Carroll claimed that these high profile and public statements were defamatory. President Trump also claimed defamation in a countersuit, which was thrown out.
In 2022, New York state enacted the Adult Survivors Act, which allowed victims to bring forth sexual offense cases outside of the statute of limitations for one year, between November 2022 and November 2023.
In May, Ms. Carroll won $5 million in the sexual battery lawsuit. The jury found that President Trump "sexually abused" Ms. Carroll, using the term defined by the court, and also found him liable for defamation. She then amended her first lawsuit, seeking $10 million in compensatory damages.
The upcoming trial will deal with the amount of compensatory damages owed.
Summary Judgment
Given that the jury in Ms. Carroll's second case awarded damages for defamation, Ms. Carroll requested that the court rule for her in the first case. President Trump disputed the argument, which the judge dismissed.
The judge wrote that there was no genuine issue regarding material facts to be tried, as they had already been settled in the other, similar case, and thus Ms. Carroll was entitled to a judgment.
While the second lawsuit centered around remarks President Trump made in 2022, the jury also heard arguments on the similar remarks he made in 2019 about not knowing Ms. Carroll and criticizing the book she had been promoting around the time.
President Trump's attempt to challenge the charges against him again in the separate case was denied.
"The truth or falsity of Mr. Trump's 2019 statements therefore depends—like the truth or falsity of his 2022 statement—on whether Ms. Carroll lied about Mr. Trump sexually assaulting her. The jury's finding that she did not therefore is binding in this case and precludes Mr. Trump from contesting the falsity of his 2019 statements," the judge wrote. "Mr. Trump's contrary arguments are all unpersuasive."
Ms. Carroll had argued that "no reasonable person could believe that Trump acted with actual malice in October 2022 but lacked it in June 2019" in her push for a summary judgment.
"Shame on those who make up false stories of assault to try to get publicity for themselves, or sell a book, or carry out a political agenda," he said, referencing what happened to U.S. Supreme Court Justice Brett Kavanaugh, whom he had nominated for the seat. Ms. Carroll's story had been published in New York Magazine, and President Trump criticized both the writer and publication for publishing the story with "zero evidence."
"False accusations diminish the severity of real assault," he added.
The court documents also included a 2019 interview in which President Trump was asked about the accusations. He responded to questions about his claim that he never met her and a photo showing that they stood next to each other in a line, repeating his earlier statements and calling the accusation an "absolute disgrace."
In 2022, President Trump made a post about the case on Truth Social after Ms. Carroll gave an interview about it with CNN's Anderson Cooper.
"This 'Ms. Bergdorf Goodman case' is a complete con job … She completely made up a story that I met her at the doors of this crowded New York City Department Store and, within minutes, 'swooned' her. It is a Hoax and a lie," he wrote. He addressed the interview in which "she was promoting a really crummy book" and called the accusation a "scam," accusing Ms. Carroll of changing her story and not being able to recount when the event took place.
"The reason she doesn't know is because it never happened," he wrote.
Damages
President Trump's attorneys also argued that any damages should be limited to the amount awarded in the second case. The judge denied the motion.
The $2.98 million figure awarded for defamation in the second case had been decided based on a formula devised by Northwestern University professor Ashlee Humphrey, according to the judge's Sept. 6 order.
She testified in the other case that the Truth Social post in which President Trump called Ms. Carroll's accusations a "con job" were viewed between 13 million and 18 million times and that about 5 million people believed his words. To repair Ms. Carroll's image via a publicity campaign would then cost between $368,000 and $2.7 million, she
estimated
.
"The ultimate calculations Professor Humphreys reaches are different in both cases," Judge Kaplan wrote, ordering that the trial in January deal with the amount in damages owed.
(Visited 1 times, 1 visits today)