Besides the regional banking crisis dominating headlines Monday morning, the Northeast is bracing for a late-winter nor'easter that will bring heavy snow, rain, and strong winds. The National Weather Service said the storm's impacts would begin tonight.
Heavy snow rates and strong winds up to 50 mph will produce dangerous conditions and might impede travel in parts of the Northeast, the Weather Prediction Center wrote in an early morning update. 
The heavy-wet nature of the snow, combined with max wind gusts up to 50 mph, will result in scattered to widespread power outages and tree damage. Similar impacts could be felt along the I-95 corridor from New York City to Boston.

 In addition, March Nor Easters tend to favor the more elevated terrain for receiving the heaviest snowfall totals. Snowfall totals greater than 12 inches are expected in the Catskills and southern Adirondacks in New York State, Berkshires and Worcester Hills in Massachusetts, Monadnocks and White Mountains in New Hampshire, and southern Green Mountains in Vermont. Localized maximum totals of 24-30 inches are possible. 

Widespread minor coastal flooding and beach erosion may be possible through Wednesday as the low-pressure stalls and deepens off the coast of New England.
Millions of people across Northeastern Pennsylvania, New York, and New England are under winter storm warnings, watches, and advisories.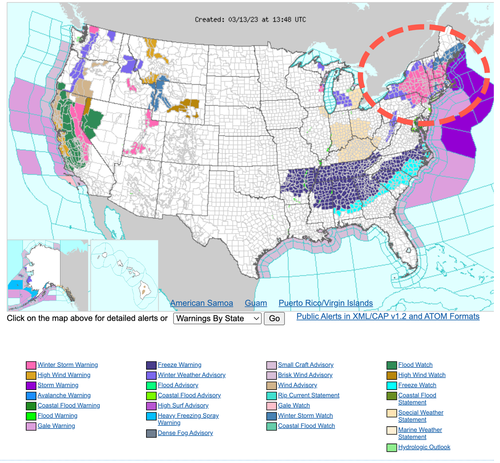 Forecasted snowfall amounts for the Northeast through midweek.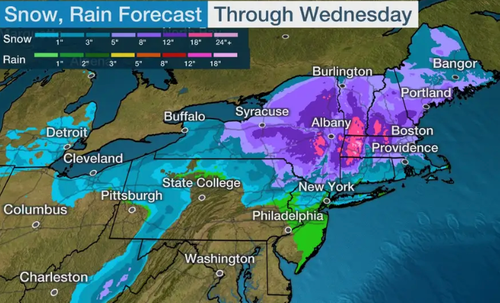 However, for New York City, Bob Oravec, a meteorologist at the Weather Prediction Center, told NYTimes that the storm's going to be "predominantly" a rain event for the metro area. 
Loading…
(Visited 1 times, 1 visits today)