Los Angeles is reportedly spending $44,000 for each individual tent in a temporary tent village for homeless people in East Hollywood, The Messenger reports.
All told, it cost about $4 million to put up fencing, bathrooms, and staffing facilities for the village. Catering services and 24-7 staffing cost an additional $3 million per year, the Los Angeles Times reported.

Despite the high costs, the site is only temporary. It's located on a parking lot that will eventually be turned into public housing. But because it will take years for construction to commence on that project, the city decided to fill the space with tents in the meantime.
San Francisco-based nonprofit Urban Alchemy maintains the encampment. Launched in 2018 with a small grant, the group hires mostly former prisoners because they have the "ability to read people in unpredictable situations."
According to several lawsuits, however, some of those employees have engaged in abusive behavior.
After expanding to Portland and Austin, the group brought in $51 million in 2021.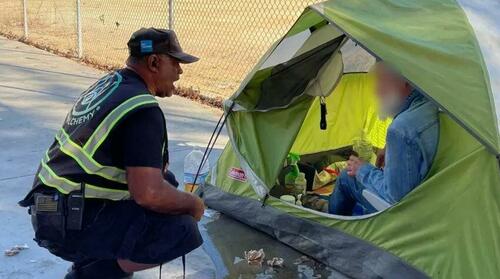 The nonprofit says it's offering a practical solution to provide affordable housing for the state's 172,000 homeless people, while also claiming to offer safety and autonomy.
The East Hollywood tent city contains higher quality tents 'than anything someone could buy from a typical camping store,' and include wooden platforms, full beds and storage lockers.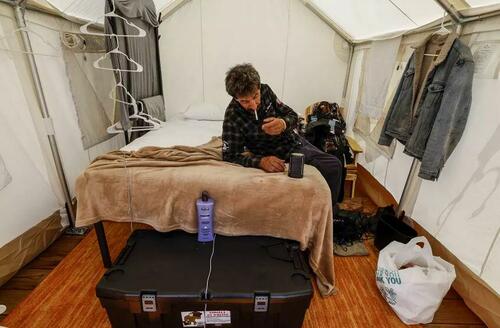 The nonprofit Coalition for Responsible Community Development, meanwhile, set up an office across the street to attract people who might be interested in reentering the workforce.

The nonprofit already oversees several camp villages across the state with varying styles. The residences at a tent city in Culver City are made from sturdy white canvas, while those in South Los Angeles are more humble, resembling store-bought camping gear. -The Messenger
According to the report, just 2% of the homeless in the East Hollywood encampment have transitioned to permanent housing, which Urban Alchemy blames on a lack of affordable housing in the city.
Loading…
(Visited 1 times, 1 visits today)