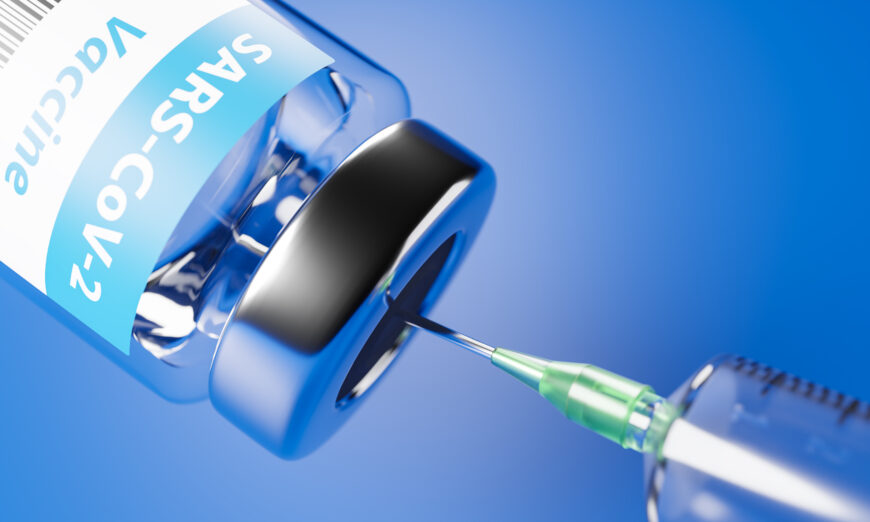 Critics of the bivalent COVID booster say the FDA is spreading propaganda  
Andreas Prott/Shutterstock
In April 2022, Dr. Beth Bell, a clinical professor at the University of Washington's Department of Global Health, told a reporter that she was worried that Americans were getting tired of having to receive multiple COVID-19 vaccines.
"I'm very concerned about booster fatigue," Bell, who is an advisor to the CDC, admitted in that interview with the Associated Press.
However, because COVID-19 vaccine-acquired immunity has been shown to wane over time and humans historically tend to get sicker with respiratory infections during the winter months, the FDA recently approved two new injections.
The updated Moderna injection, Spikevax, targets the original strain of the COVID-19 vaccine and the Omicron BA.1 subvariant.
The updated Pfizer injection, Comirnaty, also targets the original strain, as well as two other Omicron subvariants, BA.4 and BA.5.
On Aug. 31 the FDA authorized these bivalent boosters for anyone 12 years old or older.
"The virus that caused COVID-19 changes over time," the FDA explained on its website. "Keep your protection against COVID-19 up to date by getting a bivalent COVID-19 vaccine booster dose."
On Oct. 12 the FDA further authorized both the Moderna and the Pfizer booster shots for children as young as five.
Health Canada quickly followed suit. On Sept. 1 Health Canada approved Moderna's booster for people ages 18 and older and on Oct. 7 they approved the Pfizer shot for children 12 and up.
Since the boosters were approved by health authorities, there has been a huge push by both governments and the two companies to get people to roll up their sleeves—again—for yet another round of shots.
Most of us have seen articles in the newspapers, advertisements on television, memes, and videos on social media urging us to get ourselves and our families boosted. Jennifer's household even received a direct mailing campaign with the incentive of a coupon for 10 percent off groceries as a reward for getting the booster shots.
Just Like the Annual Flu Vaccine?
"We have worked closely with the vaccine manufacturers to ensure the development of these updated boosters was done safely and efficiently," said Peter Marks, M.D./Ph.D., director of the FDA's Center for Biologics Evaluation and Research, in a press release. "We are confident in the evidence supporting these authorizations."
The same press release compared the COVID-19 boosters to the annual flu vaccines.
Again according to Marks: "The FDA has extensive experience with strain changes for annual influenza vaccines."
But other medical doctors say that comparing these new COVID-19 boosters to annual flu vaccines is highly misleading.
"… [C]ritics of this vaccine say the FDA has lowered the bar too low," insisted Dr. Vinay Prasad, a hematologist-oncologist and Professor in the Department of Epidemiology and Biostatistics at the University of California San Francisco, in a recent video.
In the video, which has been viewed by over 301,400 people, and in an accompanying Twitter thread, Prasad explained why an annual mRNA injection is "NOT AT ALL LIKE an annual flu shot" (his emphasis).
The Comparison 'Entirely Misplaced'
The comparison between the annual flu vaccine and these COVID-19 boosters "is entirely misplaced," Prasad argued. "It's completely farcical. It's absolutely wrong. And anyone who says it is pushing propaganda rather than science."
Prasad detailed eleven reasons why the COVID-19 boosters are not like annual flu vaccines. Among them is the way each immunization is manufactured. Flu vaccines change yearly, based on expert predictions of what viral strains will be in circulation in North America. This is based on testing of the strains in circulation in Australia and other countries that have winter when it is summertime in North America. The predictive nature of these vaccines is the reason why efficacy rates vary from year to year. When the vaccine is a good match (meaning it provokes immune responses to the strains that come to the United States), the efficacy rates can be quite high. Some years, however, the influenza vaccines try to offer protection against strains that do not circulate in the United States. In those years, flu vaccine efficacy is lower.
But, Prasad said, the situation with these COVID-19 boosters is quite different. The COVID-19 vaccines are not predictive. Rather, they are "built on strains that have already been to North America … It's a fundamental difference," he said. "So it's not about what's coming in the future, it's about what's been here in the past."
'Far More Reactogenic'
In addition, the COVID-19 vaccine "is far more reactogenic," Prasad said.
Indeed, a quick look at both government data and peer-reviewed science shows that COVID-19 vaccines have much higher rates of adverse events than the flu vaccine. As of Oct. 21, 2022, 1,447,520 reports of adverse side effects following the COVID-19 vaccines have been submitted to the CDC. This far exceeds the combined total number of adverse events reported following every other vaccine the CDC recommends since the inception of the reporting system.
Serious adverse events have been detailed in VAERS, in the peer-reviewed scientific literature, and in individuals' own testimony. These include blood abnormalities and blood-clotting disorders; life-threatening heart conditions, including inflammation (myocarditis), particularly in teenage boys; unbearable and incessant tinnitus; genital necrosis; and even lymphoma; which is cancer of the immune system.
Stories of serious adverse outcomes following COVID-19 vaccination are everywhere. After he was vaccinated in the summer of 2021, Jeremy Chardy, former world No. 25 tennis player, experienced so many health problems as a result of the vaccine that he spoke publicly about them.
The 35-year-old elite French athlete told a journalist that he has had "a series of problems. As a result, I can't train, I can't play."
Seventy-seven-year-old English music icon Eric Clapton was so sick following the second dose of the AstraZeneca/Oxford vaccine that he could no longer play the guitar. Clapton told the press that the extreme pressure to get vaccinated resulted in nerve damage in his fingers and was "disastrous" for his music.
"Adverse events are objectively higher with the COVID-19 vaccines," Prasad said, mentioning that many who take it feel so badly immediately afterward that they are forced to take time off work.
"It has more myalgia (muscle aches), fever, chills, and night sweats than the flu vaccine. I think that's obvious for anyone who has looked at this issue."
Less Deadly Than the Flu
Prasad also pointed out that COVID-19 infections are "less lethal" than the flu, and have been for many months now. He backed up this claim by sharing an analysis of the data from the United Kingdom, which was done by the Financial Times.
"It's also far less deadly or harmful for younger people than seasonal influenza," Prasad continued. "And that's yet another reason why you might want to have a different policy."
FDA's False Statements
On Sept. 9, Dr. Robert M. Califf, the commissioner of the FDA who was nominated by President Joe Biden and sworn in last February, told his followers in a Twitter thread that, "Being vaccinated and boosted reduces your risk of dying or getting critically ill and going to the hospital. The updated booster also increases your chances of being in attendance at upcoming gatherings with family and friends," Califf wrote.
While Prasad said the first sentence may be defensible, he took issue with the second half of this tweet.
"He's just making things up," Prasad insisted.
"He's absolutely lying to the American public. The Commissioner of the FDA does not have any evidence to support that claim.
"In order to prove that the updated booster would mean you are more likely to attend more upcoming gatherings … you would have to have some human data to support that claim."
That study does not exist. "He has no basis to say that," Prasad argued, "and he's the commissioner of the FDA. They're not supposed to be in the business of doing Pfizer's marketing for them. In fact, if Pfizer were to make this statement, I believe the FDA would have the legal authority to fine them for false information, for false advertisement."
Prasad does not mince words about how misleading Califf's contention is. "This is absolutely despicable," he said, "and a new low for the FDA."
Prasad also criticized the FDA for essentially becoming a new arm of the pharmaceutical industry, advertising the boosters directly to consumers. "They're spoiling their credibility and reputation," he said, "…and that didn't happen with the flu shot."
Prasad, it turns out, is not the only one who thinks the FDA is doing things wrong.
FDA Officials Resign Citing Pressure to Approve Unnecessary Boosters
Indeed, two FDA officials have themselves resigned over the question of COVID-19 boosters. In August 2021, Dr. Marion Gruber, Ph.D., a vaccine expert with over 30 years of experience developing and regulating vaccines, announced her retirement. Dr. Philip Krause, who himself worked at the FDA for 30 years, also said he was leaving the FDA.
"Neither believed there was enough data to justify offering booster shots yet," the New York Times reported.
Prasad commented that both scientists were uncomfortable with White House pressure to approve a one-size-fits-all booster just eight months after the original vaccines were distributed.
Even Dr. Paul Offit Says, 'No, Thank You'
The Washington bureaucrats making booster recommendations are exhibiting a pattern of "gross incompetence," according to Prasad. "They blunder repeatedly," he said. "These are people who are political appointees. They're not selected because they're the best scientists."
So what about the medical doctors and vaccine advocates who are equipped to keep up with the new peer-reviewed research, and who have their boots on the ground seeing patients?
One is Dr. Paul Offit, a pediatrician at the Children's Hospital of Philadelphia, co-inventor of the rotavirus vaccine, and a staunch proponent of childhood vaccinations. In February 2022, Offit began serving the FDA in an official advisory capacity on the Vaccines and Regulated Biological Products Advisory Committee, a position that lasts three years.
In late September, Offit told Yahoo Finance that he believes the CDC may be "overselling" the new boosters.
In another forum, Medpage Today, Offit pointed out that he has had three doses of the original vaccine and that he contracted a mild case of COVID in May, which suggests that he has "high immunity now."
Offit also said that he has no plan to get a COVID-19 booster. For now anyway.
"I do not plan to get another dose of SARS-CoV-2 vaccines until it is clear that people who have been primed, boosted, and naturally infected are nonetheless at high risk of serious illness when encountering the virus," he said.
Jennifer Margulis, Ph.D., is an award-winning journalist and author of "Your Baby, Your Way: Taking Charge of Your Pregnancy, Childbirth, and Parenting Decisions for a Happier, Healthier Family." A Fulbright awardee and mother of four, she has worked on a child survival campaign in West Africa, advocated for an end to child slavery in Pakistan on prime-time TV in France, and taught post-colonial literature to non-traditional students in inner-city Atlanta.
Joe Wang, Ph.D., was a molecular biologist with more than 10 years of experience in the vaccine industry. He is now the president of New Tang Dynasty TV (Canada)
(Visited 1 times, 1 visits today)