Update (1115ET): It appears the potential loss of 600k b/d in oil supply to Cushing is nothing to worry about as the initial price spike that sent WTI crude prices up to $75.50 has been completely erased and then some (after hitting stops it seems)…
This has smashed WTI back into the red for the year…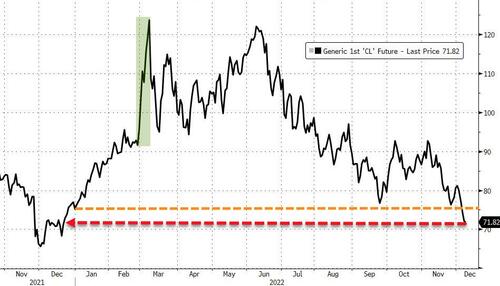 Goldman's Mike Sullivan warns that liquidity is becoming an issue in the oil markets:
 "I am focused on a few things from here. The first is where is crude going to bottom.

Brent open interest is at ytd lows. COT Brent managed money was at the lowest level since Nov 2020 through last Tuesday and oil is 7% lower since then.

GS futures ests CTAs are pretty short crude here.

The tagline – Crude feels washed out to me."
The Keystone disruption compounded positive signals from China, where a rollback of Covid restrictions is also brightening the demand picture.
"Oil markets are exhausting," said Ed Moya, senior market analyst at Oanda Corp.
"The focus is all over the world for oil markets as energy traders track developments across Turkey's Bosphorus strait as 19 oil tankers await passage and over the Keystone Pipeline getting shut after a leak. Oil was already getting close to the key $70 level so this detected leak was immediately met with strong buying," he added.
Meanwhile, Amos Hochstein, the US State Department's senior energy security adviser, said Wednesday that President Joe Biden's administration is still weighing the impact of China's reopening – and the price cap on Russian supplies – before moving to start replenishing the depleted Strategic Petroleum Reserve.
*  *  *
As we detailed earlier, TC Energy Corp said in a statement this morning that it shut the Keystone oil pipeline system after a leak into a creek near Steele City, Nebraska
We have shut down the Keystone Pipeline System and mobilized people and equipment in response to a confirmed release of oil into a creek, approximately 20 miles (approx. 32 kilometres) south of Steele City, NE.

Pursuant to our incident protocols, an emergency shutdown and response was initiated at approximately 8 p.m. CT, on Dec. 7, 2022, after alarms and a detected pressure drop in the system.

The affected segment has been isolated, and booms deployed to control downstream migration of the release. The system remains shutdown as our crews actively respond and work to contain and recover the oil.

We are proceeding to make appropriate notifications, including to our customers and regulators and will work cooperatively with third parties to effectively respond to this incident.

Our primary focus right now is the health and safety of onsite staff and personnel, the surrounding community, and mitigating risk to the environment through the deployment of booms downstream as we work to contain and prevent further migration of the release.

We will provide more information as soon as it becomes available.
The response was swift in WTI, jumping over 3%…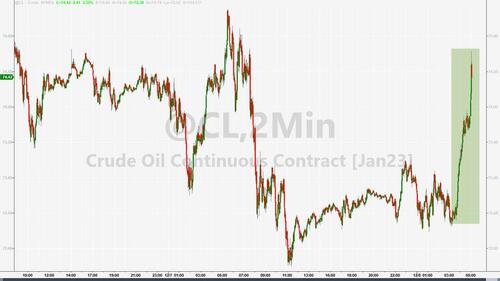 The system can carry more than 600,000 barrels of crude per day.
The nearest time spread for the US benchmark surged over 50 cents into a bullish backwardation structure…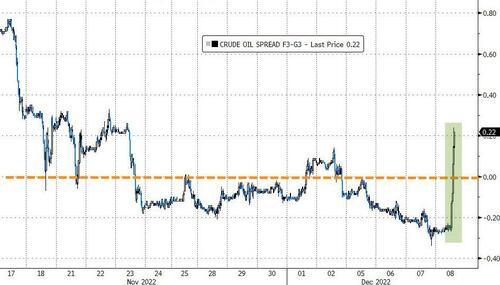 A prolonged outage would significantly tighten markets in Cushing, the delivery point of benchmark US crude futures as well as in the Gulf Coast. 
(Visited 7 times, 1 visits today)