A powerful earthquake rocked Morocco late Friday night, killing over 800 people and causing buildings to crumble across the Atlas Mountains to the ancient city of Marrakech. 
The epicenter of the magnitude-6.8 quake struck the High Atlas Mountains around 2300 local time at a depth of about 11 miles, the United States Geological Survey stated in a preliminary report. 
Millions across Marrakesh, Casablanca, Rabat, Fez, and several other cities felt the quake in the overnight hours.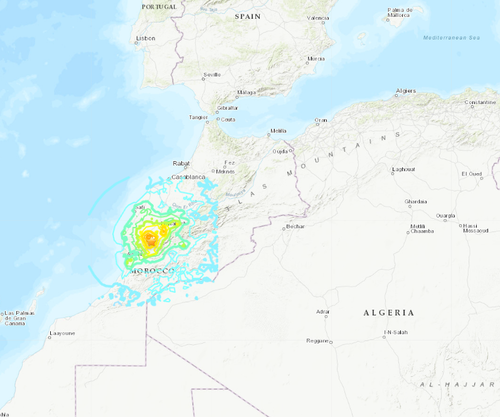 USGS said the quake was the strongest in over a century:
Earthquakes of this size in the region are uncommon but not unexpected. Since 1900 there have been 9 M5 and larger earthquakes, none of which are over M6. Most of these events have occurred east of the September 8, 2023, earthquake.
Morocco's state television, Al Aoula, reported that the death toll had risen to 820 on Saturday afternoon. Officials expect the number of deaths to continue climbing as rescue operations are underway. 
Here's footage of the destruction:
WATCH: Horrific moment powerful earthquake hits Morocco — more than 600 people dead pic.twitter.com/l9gFfkDPWP

— Insider Paper (@TheInsiderPaper) September 9, 2023
This is serious🤯🤯. Morocco must be in some serious danger. Let's all pray for them🙏

— TheKwesiBimpe (@kwesi_bimpe) September 9, 2023
Our deepest sympathy goes out to #Morocco. pic.twitter.com/xoMzwv9CT4

— TIMES OF GAZA (@Timesofgaza) September 9, 2023
Let's all pray for Morocco 😭 pic.twitter.com/1kA0WBWCLA

— MR.PHIL (@Amgephil) September 9, 2023
Bill McGuire, professor emeritus of geophysical and climate hazards at University College London, was quoted by NRP, who said:
"The problem is that where destructive earthquakes are rare, buildings are simply not constructed robustly enough to cope with strong ground shaking, so many collapse resulting in high casualties.

"I would expect the final death toll to climb into the thousands once more is known. As with any big quake, aftershocks are likely, which will lead to further casualties and hinder search and rescue."
Leaders of G20 countries have offered Morocco support following the deadly quake.
French President Emmanuel Macron posted on X, "We are all shocked after the terrible earthquake in Morocco. France stands ready to help first aid responses."

President Biden said he was "deeply saddened" by the quake: "We are working expeditiously to ensure American citizens in Morocco are safe, and stand ready to provide any necessary assistance for the Moroccan people." 
Morocco's deadliest quake on record dates back to a magnitude 5.8 that struck Agadir in 1960 and killed about 12,000 people. 
Loading…
(Visited 1 times, 1 visits today)