Authored by Jeff Louderback via The Epoch Times (emphasis ours),
On a steamy summer morning, Robert F. Kennedy Jr. strode into a hotel conference room in Columbia, South Carolina, amid a barnstorming town hall tour of a state where Joe Biden won close to 49 percent of the vote in the 2020 Democratic primary.
Mr. Kennedy spoke about his 2024 presidential campaign. Democrat pundits say he is a fringe candidate who spreads conspiracy theories. Polls show him with the highest favorability rating of any presidential candidate.
There is no path for Mr. Kennedy to defeat President Biden, critics claim, despite questions about President Joe Biden's age and mental fitness, low approval ratings, and surveys showing that Americans are concerned about the economy.
Earlier this year, the Democratic National Committee voted to give its full support to the president.
Mr. Kennedy agrees that unseating an incumbent president in the same party is a daunting challenge but disagrees with doubters who say he has no chance of securing the nomination.
The 2024 presidential nominee will be announced during the Democratic National Convention in Chicago next summer. Until then, Mr. Kennedy intends to continue to press his case.
"The DNC has around $2 billion, and they're spending that money generously to try to marginalize me in many ways, but I think most Democrats care about one thing more than anything else, which is to beat Donald Trump," Mr. Kennedy told The Epoch Times. "I think President Biden cannot do that. I can."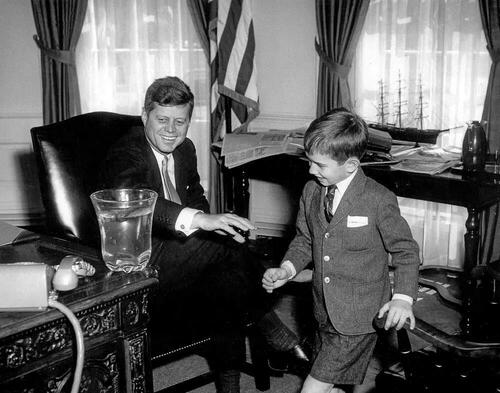 Mr. Kennedy is the nephew of President John F. Kennedy, who was assassinated in 1963; and the son of Robert F. Kennedy, who was shot and killed after a campaign speech while running for president in 1968.
During his town halls and meet-and-greets, Mr. Kennedy tells stories from time spent with his uncle and father and connects them to his presidential campaign.
He wants to continue his father's legacy of uniting Americans from all economic classes and ethnic backgrounds.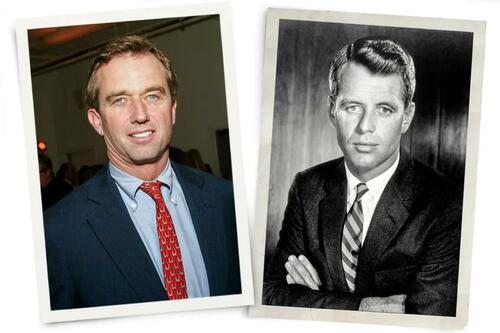 "I think we do that by telling the truth to people. My dad did it that way. He talked about uncomfortable issues but talked about the truth. I think people are tired of being lied to by the government, by the media," Mr. Kennedy said.
"My dad ran against an incumbent president in his own party (Lyndon B. Johnson) during a divisive time. I'm running against a larger challenge because I am facing an entire infrastructure that is against me, from my own party and Big Tech and the pharmaceutical industry."
An environmental attorney and the founder of Children's Health Defense, Mr. Kennedy is widely known for being outspoken about the health risks of vaccines. His stand on these and other issues has drawn support from voters who are not left-leaning.

The candidate, however, has said that he won't do that, reiterating that stance over the last month in town halls and meet-and-greets in South Carolina, Virginia, and New York City.
"I'm a Democrat. This is my identity, but I want my party back," Mr. Kennedy said. "I'm running for president because the Democratic Party has lost its way. I want to remind the Democratic Party of what we are supposed to represent."
"A focus on the middle class and labor, the well-being of minorities, a focus on the environment, civil liberties, and freedom of speech."
He frequently talks about "unity" and "healing the divide."
"I intend to bridge this toxic polarization that is really destroying our country and tearing us apart," Mr. Kennedy said.
He called his campaign a "peaceful insurgency" that he hopes will appeal to conservative Republicans, independents, moderates, and liberal Democrats.
"During the 35 years I spent as one of the leaders of the environmental movement in our country, I was the only environmentalist who was regularly going on Fox News. I went on Sean Hannity repeatedly—Bill O'Reilly, too," Mr. Kennedy said.
"I want to talk to media members and voters who share differing opinions than mine, because how else are you going to persuade?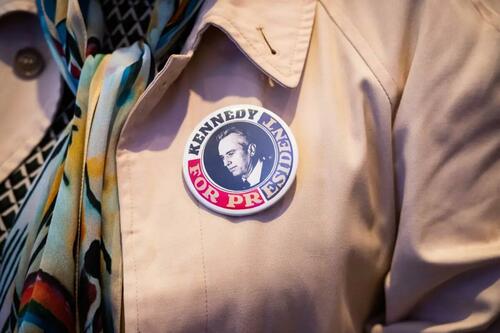 "I think we have a lot more in common than what the media portrays. What keeps us apart are things that are rather trivial. We let them feed this toxic polarization. We need to talk. We need to have conversations with people from a wide range of views."
Days after a House hearing on censorship in July that saw Democrats attempt to block Mr. Kennedy from testifying, a Harvard-Harris poll showed that he has a higher favorability rating than any other 2024 presidential candidate.
Mr. Kennedy saw a favorable rating of 47 percent and an unfavorable mark of 26 percent, according to a survey of 2,068 registered voters, conducted July 19–20 and released on July 23. Former President Trump carried a favorability rating of 45 percent compared with an unfavorability number of 49 percent. Florida Gov. Ron DeSantis had a 40 percent favorable rating and 37 percent unfavorable, and President Biden's rating was 39 percent favorable and 53 percent unfavorable.
Mr. Kennedy also had the highest net favorability of all 2024 presidential candidates in a June poll from The Economist/YouGov.
Kennedy campaign manager Dennis Kucinich is a former Democratic congressman from Ohio who ran for president in 2004 and 2008. He believes Mr. Kennedy can "rebuild and save" the country and that there is a path to victory over Biden.
"He is the only Democrat who can reach across the political spectrum, which means he can win in 2024," Mr. Kucinich told The Epoch Times.
"Conservatives, liberals, independents, and libertarians are responding to this campaign because of the unique qualities of Robert F. Kennedy Jr. and because there is an understanding he stands for unity, freedom, truth, and authenticity. That is what's resonating with people."

When asked about President Biden and former President Trump, Mr. Kennedy is measured in his responses.
"I'm not going to attack other people personally," Mr. Kennedy said. "I don't think it's good for our country. And what I'm trying to do in this race is bring people together, is try to bridge the divide between Americans."
'Poison, Hatred, and Vitriol'
Mr. Kennedy stands for "de-escalating" what he called "poison, hatred, and vitriol."
Mr. Kennedy has repeatedly expressed his disapproval of President Biden's job performance, but he has refrained from personal attacks about the 80-year-old's mental fitness.
"If there's a policy I disagree with—like the war, like censorship, the lockdowns—I'm going to criticize those, but I'm not going to attack him as a man," Mr. Kennedy said.
"I will say, whether he's up to it or not, whether he's making his own decisions—the decisions that are coming out of the White House are bad decisions."
President Biden is not scheduled to appear in Democrat primary debates, a decision Mr. Kennedy believes the president should reconsider.
"I think it would be better if we have a democracy where every candidate debates," Mr. Kennedy said.
"I suppose he is making a strategic decision that's based upon his own interest, but I think we're living in a period when people have lost faith in the democratic process, and they think the system is rigged."
President Joe Biden and President Trump should take the debate stage as a sign of respect for American voters, Mr. Kennedy said.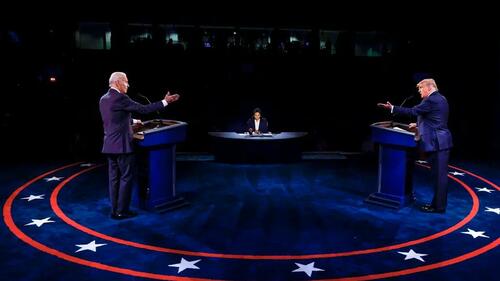 "Americans shouldn't feel like we live in the Soviet Union, where the party picks the candidates. I think it would be much better for our democracy, and we'd be a better example for the world and improve our credibility with the American people if we actually allowed democracy to function and all the candidates participated in debates, and town halls, and retail politics.
"It is important for the Democratic Party that there is a primary debate. Ultimately, a Democrat will debate a Republican, and the Republican will likely be Trump. He is probably the most successful debater in this country since Lincoln Douglas," said Mr. Kennedy, noting how President Trump defeated a crowded pool of Republican primary candidates in 2016.
"He has his own technique that people like. It's like going into a prize fight. You need practice, and that usually happens in the primary," Mr. Kennedy said.
"Asking the president to not debate in the primary is like asking a prizefighter to practice by sitting on the couch."
In South Carolina, Virginia, and New York City, Mr. Kennedy talked to voters about the economy and issues on which he disagrees with President Biden.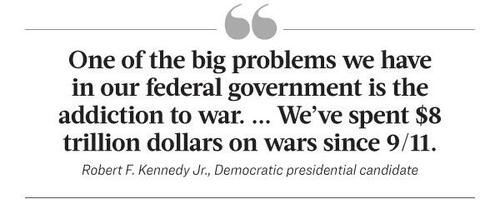 In Charleston, he criticized the president for continued financial support to Ukraine.
"One of the big problems we have in our federal government is the addiction to war," Mr. Kennedy said. "President Biden went to Congress and asked for another $24 billion for the Ukraine War.
"We've spent $8 trillion dollars on wars since 9/11. If we kept that money home, we would've had child care for every American. We would have free college education for every American. We'd be able to pay for our Social Security system."
He believes that he, and not President Biden, is the candidate who will best represent Democrats in 2024 and beyond.
"I am the only choice that is going to end the war machine, that is going to really focus on rebuilding the American middle class, taming inflation," Mr. Kennedy said.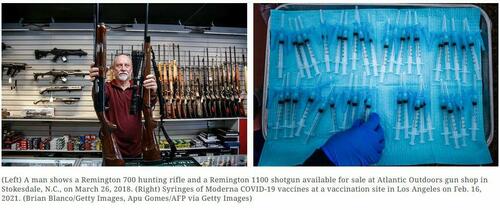 About gun control, Mr. Kennedy said, "I do not believe that, within that Second Amendment, there is anything we can meaningfully do to reduce the trade and the ownership of guns."
"Anybody who tells you that they're going to reduce gun violence through gun control at this point, I don't think is being realistic," he said. "I think we have to think about other ways to reduce that violence."
Mr. Kennedy did note that he would sign an assault weapons ban if he were president and the legislation was placed on his desk.
A vocal opponent of the pharmaceutical industry, Mr. Kennedy vowed at a town hall in Brooklyn on Sept. 1 that he would ban pharmaceutical advertising.
He is outspoken about the dangers of the COVID-19 vaccine for some in the population who were coerced to take them, but he told the Epoch Times that he is not "anti-vaccine."
"I've never been anti-vaccine," he said. "I've said that hundreds and hundreds of times, but it doesn't matter because that is a way of silencing me. Using that pejorative to describe me is a way of silencing or marginalizing me."
Mr. Kennedy has said that, initially, he was not in favor of former President Trump's border wall. But after seeing the border firsthand in Arizona in July, he changed his mind. He said there is a need for increased infrastructure and technology at the border, including more segments of a physical wall, and sensors in areas where a wall isn't feasible.
Until the United States can seal the border, he said he doesn't think it is possible to get an immigration reform package through Congress.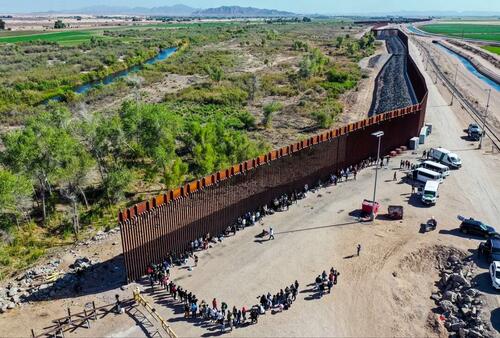 Mr. Kennedy visited the Arizona–California border with Mexico in early June and met with illegal immigrants, Border Patrol agents, and other stakeholders.
"The Democratic Party thinks our function should be welcoming all immigrants into the country no matter what, and to basically open the borders. And the experiment has been a disaster, a humanitarian catastrophe," Mr. Kennedy said.
"I watched it firsthand. I watched 300 people come across the border and then be processed and sent to locations all over the country with court dates seven years down the road."
"There's now seven million people who have come across illegally and have no legal status in this country. Those people are very vulnerable now to unscrupulous employers who are paying them $5 and $6 an hour," he said.
Mr. Kennedy called the Biden administration's open border policy "a way of funding a multibillion-dollar drug and human trafficking operation for the Mexican drug cartels."
"As president, I will secure the border, which will end the cartel's drug trafficking economy. I will build wide doors for those who wish to enter legally so that the U.S. can continue to be a beacon to the world where diversity and culture make us great," he said.
"Immigration is good for our country, but this kind of immigration is unfair to everybody," he said.
Ending the Ukraine War
Mr. Kennedy has called for de-escalating the war in Ukraine. He explained that he is sympathetic to the Ukrainian cause and added that Russian President Vladimir Putin invaded the country illegally, but he chastised the United States for its role in the conflict.
"We have neglected many, many opportunities to settle this war peacefully," he said. "We have turned that nation into a proxy war between Russia and the United States."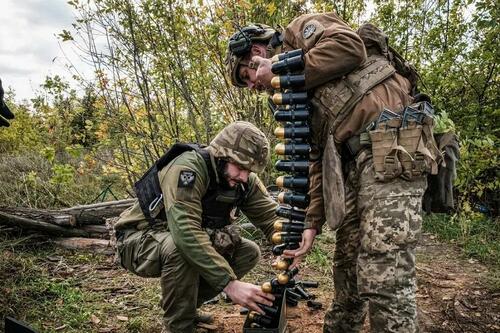 Mr. Kennedy has urged President Biden to negotiate a peaceful end to the Russia-Ukraine war, which started when Russia invaded the neighboring nation in February 2022.
"Russia is not going to lose this war. Russia can't afford it," Mr. Kennedy said. "It would be like us losing a war to Mexico."
As part of his reasoning for ending the Ukraine war, Mr. Kennedy referenced his uncle, President John F. Kennedy.
"My uncle Jack said that the primary job of an American President of the United States is to keep the country out of war. He kept out of Vietnam. He sent only 16,000 military advisers there—mainly Green Berets," Mr. Kennedy said.
"In October 1963, he learned that one of his Green Berets had died, and he asked his aide to give him a combat casualty list, and the aide came back and said 75 had died so far. He said: 'That's too many.'"
The American Dream
When it comes to supporting labor unions, Mr. Kennedy's ideas are similar to President Biden's.
"In my administration, you can expect vigorous action by the Justice Department and the Department of Labor to enforce laws against union-busting and unfair labor practices," Mr. Kennedy said.
"We will also raise the minimum wage so that unions have a higher floor from which to bargain. We will negotiate trade treaties that don't pit American workers against low-wage foreign workers in a race to the bottom."
At his campaign stops. Mr. Kennedy likes to talk about the flourishing economic period the nation experienced after World War II.
"I grew up during the heyday of American economic prosperity. It was in the 1950s and 1960s that the archetype of the American Dream was born. It was not something available only to a lucky few; it was within the reach of most Americans," he said.
Read the rest here…
Loading…
(Visited 1 times, 1 visits today)