By Charlie Zhu and Helen Sun, Bloomberg Markets Live reporters and analysts
1. The worst of China's economic downturn may be behind us as stimulus impact feeds through. Data released Friday showed industrial production and retail sales in August both significantly beat estimates and picked up from the previous month. That gave investors reasons to believe that economic activities may be bottoming, even though the property market remains stuck in a rut.
The People's Bank of China stepped up easing, lowering the required reserve ratio for the second time this year. In addition to some 500 billion yuan ($69 billion) released from the reduction, the central bank added a net 191 billion yuan into the financial system via the medium-term lending facility, the most since March.
Reducing the RRR show a sense of urgency among authorities to boost growth, and more policies may follow to ensure the stabilization is sustained, said Zhang Zhiwei, chief economist at Pinpoint Asset Management Ltd.
Financial market reactions were muted — pointing to lingering caution. The CSI 300 Index closed lower on Friday, while the onshore yuan was little changed versus the dollar. For the week, the currency rebounded from a 16-year low amid additional support from the PBOC's jawboning and other measures.
2. The nascent signs of stabilization in the economy, however, can easily be derailed by the crisis in the property sector. New-home prices dropped at a faster pace last month — showing why fresh rescue measures had to be deployed — while real-estate investment during January-August slid more than in the first seven months.
State-linked developer Sino-Ocean Group Holding Ltd. suspended payment on all its offshore debts due to tight liquidity, suggesting the raft of policy support extended so far has failed to improve its finances.
Indeed, just four months after Moody's Investors Service upgraded China's property sector outlook to stable, the rating firm revised it back to negative. The latest policies show a "significant shift" in government efforts to boost property demand, but the impact will likely fade after a few months, especially in lower-tier cities, analysts led by Cedric Lai wrote in the report.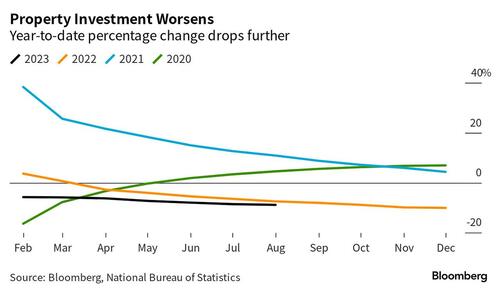 3. The European Union's investigation into Chinese subsidies for electric vehicles threatens to set off another trade war. Beijing immediately fired back, blasting EU's decision as "naked act of protectionism."
Given the size of China's EV industry and its rapid rise, potential tariffs on exports from automakers like BYD Co., Nio Inc. and XPeng Inc. will have an impact that goes beyond anti-subsidy actions imposed on smaller sectors. Any forthcoming measures may also dent China's booming EV exports, which have been a rare bright spot in the economy.
The developments show regulatory risks for Chinese EVs, although they might accelerate plans to build factories in the European Union region if the probe leads to higher tariffs or lower subsidies, according to Bloomberg Intelligence analysts Joanna Chen and Steve Man.
Loading…
(Visited 4 times, 1 visits today)