And just like that, "Coronahope", i.e., the market's entirely unfounded and groundless optimism that the coronavirus pandemic is contained, is back, and pushing stocks to fresh record highs.
Until two days ago, the roughly 5,000 increase in official new Chinese infected cases would have been the biggest one day increase on record. However, since just a day earlier we had a 15,000 increase due to a revised "definition" of what infected means (which in addition to genetic tests also includes a CAT scan of those terminal patients who now have openly visible lung lesions), the sharp "drop" has sparked a fresh burst in hope that the infection is now slowing.
The irony is that markets are rallying on what is now openly fabricated Chinese data, because at the same time as China announced the sharp drop in new cases, it also reported that 108 of the 242 deaths "observed" the day before, had not actually been "observed", and were mistakenly double-counted, without offering any explanation how one can double count a death, and instead is proof that Beijing is now openly making up numbers on the fly.
Of course, since algos have been buying stocks for the better part of the past decade on similar fake numbers, better known in the US as non-GAAP earnings and "adjusted EBITDA", they didn't care who or how massaged the numbers, and instead unleashed a buy program overnight that sent US equity futures to fresh all time highs, while European stocks rose, even as Treasuries advanced as some remaining human traders realized that none of this makes any sense and that a global recession is likely looming at China's economy is now paralyzed and will slam global GDP to flat if not negative in Q1. In the premarket, chipmaker Nvidia and travel giant Expedia jumped after making strong forecasts. Tesla Inc. slipped after pricing a $2BN stock offering.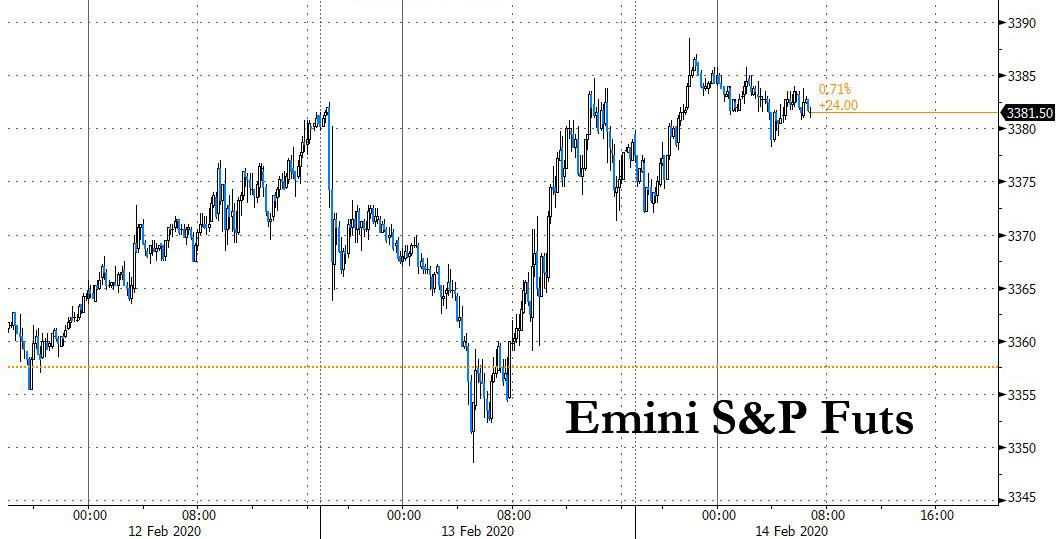 Europe's Stoxx 600 index clawed up 0.1% to follow Asian markets higher in choppy early trading, even as indexes in Paris and London both fell modestly in early trading before rebounding. In both cases, corporate results weighed, with a 5% fall for AstraZeneca L) dragging London shares down as the drugmaker said it would take a hit from the coronavirus outbreak. Meanwhile, French auto giant (which in the days of Tesla's 140BN market cap is a misnomer) Renault fell 4.2% on its first loss in 10 years as it set a lower operating margin goal for 2020, a crunch year for its planned reboot alongside partner Nissan after a scandal surrounding former boss Carlos Ghosn.
Earlier, Asian shares had earlier inched higher toward their second straight week of gains, helped by hopes governments will make provisions to soften the impact on their economies from the coronavirus epidemic. MSCI's broadest index of Asia-Pacific shares ex-Japan ticked up 0.2% as gains in finance and technology shares offset losses in the industrials sector for weekly gain of 1.8%; Japan's Topix fell for a fifth day, the longest streak this year, while China's Shanghai Composite Index resumed its rising streak even as China's economy remains almost entirely frozen. China's blue-chip CSI300 shares rose 0.7%, having staged a stunning recovery to claw back 95% of their losses made  after the outbreak.
Shares of Nissan Motor sank to their lowest in more than a decade on Friday, after deep cuts to the troubled Japanese automaker's earnings forecast and dividend raised questions about its future profitability. Japan's No.2 automaker is reeling from a scandal surrounding former chairman Carlos Ghosn that has also had a knock-on effect on its French partner Renault SA, shares of which hit their lowest in more than seven years after it earlier posted its first quarterly and annual loss in almost ten years and warned that full-year operating profit would be its weakest in 11 years. It also slashed its full-year dividend outlook to the lowest since 2011.
"It is too early for a halt in the downward trend in Nissan's share price in this environment," Jefferies analyst Takaki Nakanishi wrote in a note to clients following the results on Thursday. Nissan shares closed down 9.6% at 513.7 yen in Tokyo on Friday, the lowest since mid-2009 and the biggest one-day fall since 2013.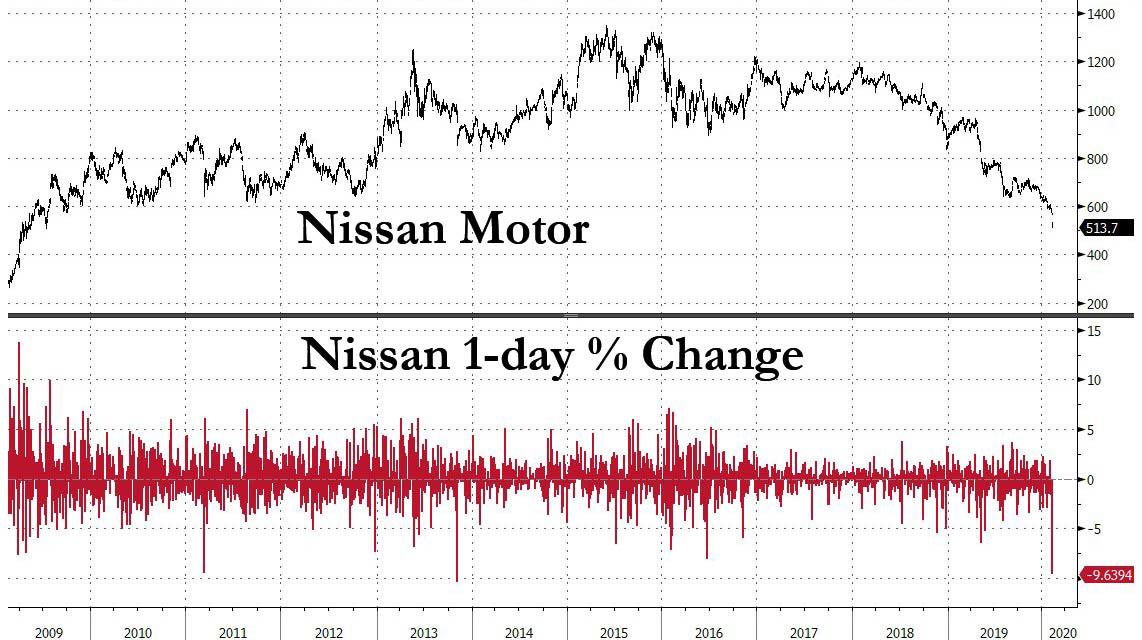 So what's really happening? Despite the burst in algo optimism, the virus outbreak showed no sign of peaking, with health authorities reporting more than 5,000 new cases, and China's Hubei province reporting 4,823 additional cases, while "confirming" that the nearly 15,000 reported the previous day was a one-off situation due to a new method for counting infections. China's National Health Commission said it had recorded 121 new deaths on the mainland on Feb. 13, taking the accumulated total infected to 63,851 people, while revising the previous day's total deaths of 242 lower by 108 due to double counting.
Despite the lock down of hundreds of millions in China, some investors – the majority apparently – are betting that the economic impact of the outbreak will not be long-lasting, finding succors in a spread beyond China that is not as rapid as feared. Others have latched on to the possibility of further central bank stimulus measures in response to any slowdown. China's central bank, for example, has already pumped liquidity into its economy.
Indeed, the biggest reason for the market's relentless ascent remains the Fed, whose balance sheet just hit a new multi-year high this week.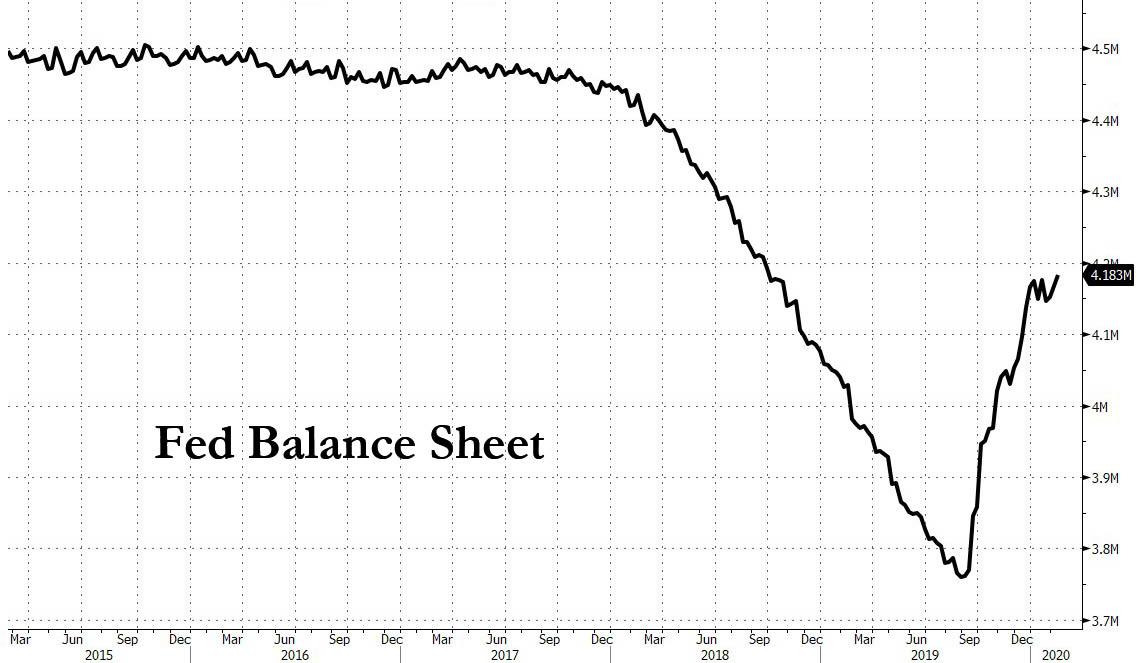 "China is already easing its monetary policy and providing more liquidity while more stimulus is likely. Factories are starting to reopen albeit with some delays," said Yukino Yamada, senior strategist at Daiwa Securities.
"We have actually taken some money out of equities this week," said Rory McPherson, head of investment strategy at Psigma Investment Management, adding that it was temporarily holding cash instead. "Markets have been overly focused on the good, and not giving a balanced view on whether the stimulus from China isn't effective, and if the coronavirus spreads and impacts the economy more."
In FX, currency traders had matters beyond the cornovairus on their minds. The euro slumped to another near-three-year low, with worries lingering about slowing growth in the euro zone and rising political uncertainties in Germany. The single currency has lost 1% so far this week and is on track for its worst two-weekly performance since mid-2018, with Eurozone GDP coming in weak, up 0.9% Y/Y below the 1.0% expected. The euro fell to as low as $1.0827, and last stood flat at $1.0830.
Meanwhile, the dollar was steady after the DXY hit a four-month high, rising 1.8% so far this month. The pound hovered near its highest level in over a week as markets continued to digest the impact of U.K. Prime Minister Boris Johnson's appointment of a new chancellor that could mean more fiscal spending.
In commodities, oil edged higher and was on track for its first weekly gain in six weeks, backed by expectations that producers will implement deeper output cuts to offset slowing demand in China. Brent crude futures were up 15 cents at $56.49 a barrel. Brent is 3.7% higher for the week, the first increase since the week of Jan. 3.
Expected data include retail sales and industrial production. PPL, Canopy Growth, and Enbridge are among companies reporting earnings
Market Snapshot
S&P 500 futures up 0.2% to 3,382.75
STOXX Europe 600 unchanged at 431.10
MXAP down 0.08% to 170.52
MXAPJ up 0.2% to 556.42
Nikkei down 0.6% to 23,687.59
Topix down 0.6% to 1,702.87
Hang Seng Index up 0.3% to 27,815.60
Shanghai Composite up 0.4% to 2,917.01
Sensex down 0.4% to 41,280.55
Australia S&P/ASX 200 up 0.4% to 7,130.21
Kospi up 0.5% to 2,243.59
German 10Y yield fell 1.3 bps to -0.399%
Euro up 0.06% to $1.0848
Italian 10Y yield fell 0.6 bps to 0.742%
Spanish 10Y yield fell 1.4 bps to 0.285%
Brent futures up 1% to $56.90/bbl
Gold spot little changed to $1,576.52
U.S. Dollar Index little changed at 99.07
Top Overnight News from Bloomberg
The Chinese province at the center of the novel coronavirus outbreak added 4,823 more confirmed cases on Friday, suggesting that a surprise surge in cases reported the day before was a one-off event. Friday's increase in the Hubei case-load was much lower than the 14,840 added to the count on Thursday
The German economy stagnated at the end of 2019, leaving it in a weakened state even before the emergence of the new coronavirus threat. Expansion last year was just 0.6% and 2020 may be little better
HSBC Holdings Plc and Royal Dutch Shell Plc are sending staff home in Hong Kong and Singapore after contact with people infected by the coronavirus, adding to concerns the disease will spread more broadly across the two Asian financial hubs
Euro-area finance ministers are poised to acknowledge their economy faces the danger of protracted malaise, though they may stop short of calling for wholesale stimulus to address it for now
The lira crash came and went more than a year ago but the distortions it left behind are making for a surprising hedge against inflation and falling interest rates in Turkey. Millions of Turks have been snapping up used cars, sending their prices surging at a time when inflation and currency depreciation were eating away at savings
The Swiss National Bank is in a bind about how to rein in the franc's unwanted strength without being labeled a currency manipulator by the U.S.
Asian equity markets were mostly higher following the near recovery seen on Wall St and as some coronavirus fears abated after the latest update from the epicentre of the outbreak showed a slowdown in the daily additional cases to 4823 and deaths at 116 vs. the prior day's 14840 surge in new cases and 242 deaths. ASX 200 (+0.4%) was positive in which financials resumed their recent earnings-driven outperformance but with gains capped by weakness in gold miners and concerns of the potential ramifications after Australia extended the ban on foreign nationals travelling from its largest trading partner China. Nikkei 225 (-0.6%) was the laggard with attention fixated on a slew of earnings including Nissan. Hang Seng (+0.3%) and Shanghai Comp. (+0.4%) were kept afloat but with early indecision in the mainland due to the outbreak and with the rumour mill rife including reports that China is considering postponing its annual parliamentary meeting, as well as a tweet that Shanghai is banning all people and cars entering the city which was uncorroborated and later deleted. Finally, 10yr JGBs were subdued amid the improved risk appetite for most the region and after prices slipped through support at the 152.50 level, while the results of today's enhanced-liquidity auction for longer-dated JGBs also pointed to weaker demand.
Top Asian News
NMC Vice Chairman Resigns From Ailing Mideast Hospital Operator
Kirin Rebuffs Investor's Push for Asset Sales, Share Buyback
Kuwait, Saudi to Resume Production From Khafji by Month- End
Philippines May Cut Key Rate Anew in 2Q If Virus Worsens
European bourses are lacklustre this morning (Stoxx 50 U/C) with little in the way of over/underperformers thus far. Newsflow has been very limited, with opening movers earnings driven; similarly, sectors are mixed/flat aside from utilities which received a valentines gift from EDF's (+8.0%) stellar earnings. Sticking with the CAC on earnings where Renault (+3.0%) metrics were mixed, but most notably they significantly cut their dividend by over EUR 2.00/shr as well as downbeat guidance which does not take into account the coronavirus. However, Co. shares have reversed course from a downbeat during their subsequent earnings call on interim CEO remarks. Turning to the FTSE 100 (+0.1%) which has had, compared to other bourses, a marginally more eventful morning driven by some mild Sterling choppiness after yesterday's Chancellor induced surge. Individual UK movers are also earnings driven, with earnings from AstraZeneca (U/C) who missed on revenue and EPS while RBS (-6.0%) beat on operating profit but this was not enough to overcome projected negative impacts from regulation changes as well as planned balance sheet reductions. Additionally, they are to re-name themselves as Natwest Group this year, which isn't too surprising as circa. 80% of RBS' clients joined through the Natwest brand.
Top European News
Germany Avoids Contraction, But Remains in Weakened Position
Renault Slashes Dividend, Posts First Net Loss in Decade
Euro-Zone Malaise Exposes Eastern EU's Economic Weak Spot
Wirecard Sales Jump While Legal Bill Weighs on Profit
In FX, the EUR is till out of favour in the G10 arena, but the single currency has regained some composure after extending losses across the board and perhaps deriving a degree of comfort from preliminary German Q4 GDP just evading contraction plus broadly firmer than forecast pan Eurozone prints alongside employment readings. Eur/Usd has clawed back from deeper sub-1.0900 lows after arresting its slide just above the next line of technical support ahead of 1.0800 around 1.0821, while Eur/Gbp has defended 0.8300 again. However, the headline pair needs to reclaim Fib retracement levels over 1.0850 to really become loved again.
USD – Amidst extremely narrow confines vs most major counterparts, the Dollar remains largely dependent on others for direction ahead of a raft of US data including retail sales and ip in advance of preliminary Michigan sentiment having derived little if any independent impetus via Thursday's CPI metrics. Hence, the DXY is still tethered to the 99.000 anchor, albeit after inching to another fresh 2020/multi-month apex at 99.166 and slightly closer to next upside chart hurdle protecting last year's peak (99.249 and 99.667 respectively).
CAD/AUD/GBP/JPY/NZD/CHF – The Loonie and Franc are marginal outliers flanking the aforementioned tightly bound trade against the Greenback, as Usd/Cad breaks below 1.3250 more convincingly against the backdrop of firmer oil prices that are also helping the NOK pare losses vs the recovering Eur more than the SEK. However, Usd/Chf has crossed 0.9800 and Eur/Chf is firmer above 1.0600 in wake of mixed Swiss producer/import price data. Meanwhile, the Aussie and Kiwi are both consolidating off this week's post-RNBZ rebound highs and hovering near 200 HMAs (0.6720 and 0.6444 respectively), and similarly the Yen continues to meander between 109.90-75, but with decent options either side (1.7 bn from 109.70-80 and 1.1 bn at the 110.00 strike). Last, but by no means least, Sterling has paused for breath after yesterday's UK cabinet reshuffle exertions with Cable respecting resistance again at 1.3070 and drifting back under 1.3050, partly on cross flows due to the Eur/Gbp bounce noted above.
EM – The Zar is clearly outperforming across the region and in wider circles with news that SA's Eskom plans no load-shedding on Valentines Day appeasing investors and helping the Rand hold well above 15.0000 in contrast to the Turkish Lira that is still unloved despite more favourable macro news via a narrower than anticipated current account deficit, as the Try treads water close to worst levels vs the Buck circa 6.0600+.
In commodities, WTI and Brent front month futures are firmer by just over USD 0.50/bbl at present, as newsflow is light and coronavirus concerns appear to having a lesser impact as we end the week; with some upside seen in recent trade, perhaps as participants close positions heading into Monday's US holiday. Crude related newsflow has been very minimal, as we continue to await confirmation as to whether Russian Energy Minister Novak will support the JTC's H1 production cut recommendation; as well as any guidance around an earlier meeting, although the likelihood of this continues to diminish from a calendar-viability perspective. OPEC aside, ING note that Sublime China data indicated that independent refinery run rates in the Shandong province continue to decrease, now around 48%. Turning to metals, where spot gold is little changed at present and remains very much rangebound in directionless trade. In contrast to crude, base metals are continuing to experience mild heartbreak on virus updates, as Japan confirm their first fatality and the China total rises to over 63k infected and 1.3k deceased.
US Event Calendar
8:30am: Import Price Index MoM, est. -0.2%, prior 0.3%; Import Price Index YoY, est. 0.2%, prior 0.5%
8:30am: Export Price Index MoM, est. -0.1%, prior -0.2%; Export Price Index YoY, est. -0.2%, prior -0.7%
8:30am: Retail Sales Advance MoM, est. 0.3%, prior 0.3%
8:30am: Retail Sales Ex Auto MoM, est. 0.3%, prior 0.7%
8:30am: Retail Sales Ex Auto and Gas, est. 0.3%, prior 0.5%
8:30am: Retail Sales Control Group, est. 0.3%, prior 0.5%
9:15am: Industrial Production MoM, est. -0.2%, prior -0.3%; Manufacturing (SIC) Production, est. -0.1%, prior 0.2%
9:45am: Bloomberg Feb. United States Economic Survey
10am: Business Inventories, est. 0.1%, prior -0.2%
10am: U. of Mich. Sentiment, est. 99.5, prior 99.8; Current Conditions, est. 114, prior 114.4; Expectations, est. 90, prior 90.5
DB's Jim Reid concludes the overnight wrap
Happy Valentine's Day to all my readers. When I got home last night after a late work dinner back in London I saw a ginormous Moonpig (a personalised gift and card company) envelope in the kitchen and immediately deduced that my wife thinks I'm the best thing ever and when I get home from work tonight I'm going to be showered with love, appreciation and a very big card. As my head hit the pillow I had a warm glow. However just as I was nodding off it struck me that our wonderful nanny is leaving next week and it's possible it could be a card for her. In fact, the more I thought about it the more I was convinced it was. The warm glow evaporated and I wasted half an hour of precious sleep trying to work out which it was. I'll find out tonight but I'm not optimistic! Our nanny is emigrating to Canada which after helping to look after our kids for 18 months I can hardly blame her.
A reminder that we published the results of our fourth monthly market sentiment survey (link here)yesterday. A key takeaway this month is how different market expectations are from polling data on the upcoming US Presidential election. This could have major market ramifications going forward. A stunning 95% thought that President Trump would be re-elected in the November election vs. him being slightly behind in actual polling. All the data/graphs across many markets and variables are included in the full report.
Just after this hits your mailbox, one of the main highlights of the day will be the first look at Germany's GDP reading for Q4, with the release out at 07:00 GMT. The consensus on Bloomberg is expecting growth to remain at +0.1% qoq, but in their latest Focus Germany publication earlier this week (link here), our economists here at DB wrote that following very weak December data, including on industrial production, retail sales and factory orders, "a small drop in Q4 GDP seems likely". Moreover, thanks to the impact of the coronavirus, a technical recession is "quite probable during the winter half." So definitely one to keep an eye out for before we then get the second estimate of Euro Area GDP at 10:00. US retail sales later is another interesting data point for today.
A quick look at markets this morning shows most bourses have recovered from yesterday's slight dip with the exception of those in Japan. The Hang Seng (+0.50%), Shanghai Comp (+0.58%) and Kospi (+0.33%) are all up along with futures in the US while the Nikkei is down -0.59%. As for the latest on the coronavirus, the total number of deaths in China is now being reported at 1,380 with confirmed cases standing at 63,851. China's National Health Commission revised the death count down by 108 saying it was due to double-counting in Hubei province. Speaking of Hubei, the number of confirmed cases has shown signs of stabilizing today after yesterday's methodology change clouded the picture which is seemingly helping to lift markets again. The province reported only 4,823 new cases overnight and of this 3,095 were diagnosed using the new method of diagnosis. So, on a like-for-like basis the plateauing trend of cases still stands.
Also worth flagging from overnight is the news that Huawei has been hit with a racketeering charge by the US. The Justice Department said in a statement that Huawei broke the law "to drastically cut its research and development costs and associated delays, giving the company a significant and unfair competitive advantage," while adding that the company even launched a bonus program to reward employees who got their hands on confidential information from competitors. The company has said in response that the new indictment "is part of the Justice Department's attempt to irrevocably damage Huawei's reputation and its business for reasons related to competition rather than law enforcement."
With regards to risk yesterday, markets dragged themselves up from the European lows into the back end of the US session before dipping back into negative territory in the last hour after the NY Fed reduced its repo operations slightly more than expected. Obviously the market has liked the combination of the repo stress having been eased while liquidity has remained high and such Fed actions continue to slowly normalise liquidity to some degree. The initial and earlier risk off was due to the rise in the number of Coronavirus cases we discussed yesterday even if much of this was due to methodology changes in the counting technique. Net-net US equities came off their record highs, with the S&P 500 (-0.16%), the Dow Jones (-0.43%) and the NASDAQ (-0.14%) all falling back, as European equities finished largely flat after a much softer open, with the STOXX 600 (-0.02%) and the DAX (-0.03%) similarly just off records highs. Havens did well, with the Japanese Yen strengthening against the dollar and the euro, while both gold (+0.63%) and silver (+0.93%) also advanced. Meanwhile the euro continued its decline against the dollar, closing at its weakest level since April 2017, and recording its 8th decline in the last 9 sessions.
Sovereign debt made gains amidst the earlier risk-off mood, with 10yr Treasury yields down -1.6bps, and the 2s10s curve flattening by -1.8bps. Over in Europe, bunds (-0.8bps), OATs (-0.05xbps) and BTPs (-0.07xbps) all saw a modest decline in yields.
The most dramatic developments yesterday came from the UK, where the Chancellor of the Exchequer Sajid Javid resigned from the government. It came after Prime Minister Johnson demanded that Javid fire his advisors and replace them with others from Number 10. Javid refused and walked out instead. Javid's replacement as Chancellor is his former number 2 at the Treasury, Rishi Sunak, who previously worked at Goldman Sachs and has only been an MP since 2015, marking a rapid ascent to high office. Unlike Javid, Sunak supported Brexit in the 2016 referendum, and his appointment also means that this is the first time since the referendum that all four of the Great Offices of State (PM, Chancellor, Home and Foreign Secretary) are now held by those who supported Brexit in that campaign.
In terms of the implications for economic policy, Sunak is seen as more of an ally of Johnson's, and the market has taken this to mean that the chances of a larger fiscal stimulus have gone up and the need for interest rate cuts reduced. Indeed, the Prime Minister's spokesman yesterday declined to confirm whether the government would stick to their fiscal rules, and also didn't confirm whether the previously announced budget date of March 11th would still apply. The market reaction reflected this as gilts sold off following the decision, with yields on 10yr gilts ending the session up +4.0bps, in contrast to the rest of Europe where yields on sovereign debt fell back. The 2s10s curve in the UK also steepened by +1.2bps, while sterling strengthened following the news to close up +0.66% against the dollar, making it the strongest performing G10 currency. I've long been of the opinion that Brexit will see the U.K. open the fiscal chequebook and it will be an interesting to see whether this accelerates this. In a week where Greece, with a debt/GDP of c.180%, saw yields drop below 1% for the first time (0.93% last night), one can't help thinking that the risk to levering up for many countries are going to be seen as low – in the near term at least. This must surely be tempting for politicians.
On the other side of the Irish sea, the Irish national broadcaster RTE reported that Fianna Fáil will not enter into talks with Sinn Féin about forming a government following last weekend's elections, though they will talk to other parties. With Fine Gael also ruling out governing with Sinn Féin, it'll be an upward struggle for Sinn Féin now if they want to form a government.
Staying with politics, one of President Trump's nominees for the Federal Reserve Board, Judy Shelton, did not have a promising round of testimony yesterday as Republican Senators voiced concerns with her political independence and past views on a gold standard. Assuming no Democrats vote for the former campaign advisor to President Trump, any Republican defection would end her nomination and there were at least three senators that voiced concerns following her hearing. There is already chatter from reporters that the White House will pull the nomination before it can fail, though the White House has already denied this. Trump's other Fed nominee, economist Christopher Waller, should get through the process as the Senate Banking Committee had fewer questions for the director of research at the St. Louis Fed.
In terms of the US data out yesterday, CPI rose to +2.5% (vs. +2.4% expected), which is its highest level since October 2018, while core CPI remained at +2.3% (vs. 2.2% expected). Initial jobless claims came in at 205k (vs. 210k expected), with the 4-week average remaining at 212k.
To the day ahead now, where data highlights include the aforementioned first look at German GDP in Q4, as well as the second estimate of Euro Area GDP. Aside from that, we'll also get Euro Area employment data for Q4 as well as the trade balance for December. Over in the US, releases include January retail sales, industrial production and capacity utilisation, along with the University of Michigan's preliminary sentiment reading for February. From central banks, we'll hear from BoJ Deputy Governor Amamiya and Cleveland Fed President Mester. Elsewhere, the Munich Security Conference will be beginning.
(Visited 2 times, 1 visits today)