One day after Apple released the new iPhone 15, 15 Plus, 15 Pro, and 15 Pro Max, a top Chinese official commented on the media reports about iPhone security problems. Last week, in two separate reports, The Wall Street Journal and Bloomberg said Beijing was planning to restrict the use of iPhones and other foreign-branded devices at central government agencies and state-owned enterprises.
"We noticed that there have been many media reports about security incidents concerning Apple phones," Chinese Foreign Ministry spokeswoman Mao Ning said Wednesday at a press conference in Beijing, which Bloomberg quoted. 
Ning continued, "China has not issued laws and regulations to ban the purchase of Apple or foreign brands' phones,' adding that Beijing attaches "great importance" to security and that all companies operating in China must abide by its laws.
Bloomberg said the foreign ministry's comments are the first by any Chinese official to comment on the topic. And came one week after WSJ reported iPhones and other foreign-branded devices were set to be restricted for use by employees at central government agencies. A day later, Bloomberg reported a similar story: "Beijing intends to extend that restriction far more broadly to a plethora of state-owned enterprises and other government-controlled organizations." 
Besides Apple's big iPhone 15 debut on Tuesday, which didn't translate into much hype, China's Huawei Technologies recently released a new advanced smartphone that breaks the US tech sanction blockage on the country. 
Apple shares have fallen 6.2% this month, setting them up for the largest monthly drop of the year.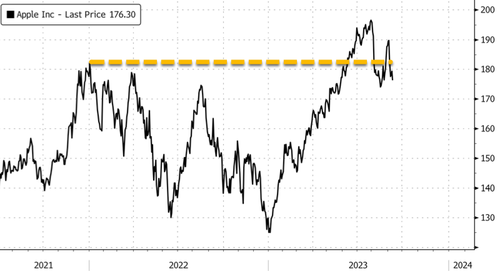 Shares usually fall on iPhone release dates. 
Suppose Beijing bans the iPhone from government agencies and state-owned enterprises, plus the release of Huawei's new smartphone. In that case, this threatens to erode Apple's market share in China, where it derives about 20% of its revenue.  
Loading…
(Visited 2 times, 1 visits today)