A new report indicates that Taiwan Semiconductor Manufacturing Co., the world's largest chipmaker and primary chip supplier for Nvidia, as well as a top supplier for Apple, Qualcomm, and Advanced Micro Devices, has instructed suppliers of high-end chipmaking equipment to postpone deliveries amid rising worries the artificial intelligence bubble has popped.
Multiple sources told Reuters that TSMC's suppliers, which include ASML, Europe's biggest tech firm, making lithography equipment for high-end chips, expect equipment delays to be short-term. 
"The instruction by TSMC, which is grappling with delays at its $40 billion chip factory in Arizona, is aimed at controlling costs and reflects the company's growing caution about the outlook for demand," one source said. 
TSMC told Reuters it wouldn't respond for comment — but called the report a "market rumor." The tech giant referred to remarks made by its CEO, C.C. Wei, in July, where he said: 
"Three months ago we were probably more optimistic, but now [we are] not. The recovery of the Chinese economy is weaker than we thought, so end-market demand is not as we expected," said C.C. Wei, CEO of TSMC. 

Wei continued, "Although we have very good AI end-market demand, it is not enough to offset [that weakness]."
The report was enough to spark concerns about flagging global demand, and in return, shares of TSMC slid 2.5%. Shares of ASML were down 4% in Europe. And Nvidia shares in US premarket trading were down about 1%.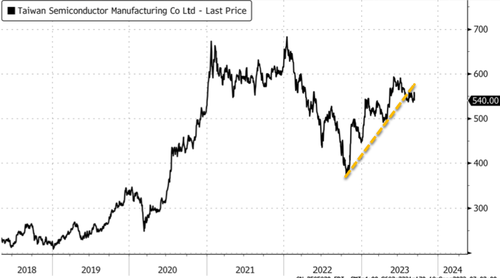 Analyst Michael Roeg of Degroof Petercam told Reuters the boom then bust of AI is not surprising.
"There has been a lot of excitement about artificial intelligence and the implications for the semiconductor industry," he said, adding that AI was positive for TSMC, which makes chips for NVIDIA.

"However the strength in demand for AI chips is not strong enough to compensate (for) what is happening in other segments." 

He cited mobile phone, laptop, industrial and more recently automotive chips as problem areas. "That's a lot of end markets that are sluggish," he said.
Reuters also noted that TSMC's new $40 billion chip factory in Arizona has suffered delays, pushing the time to start production to 2025. 
Readers may recall we first cited the words of Gary Marcus, Professor Emeritus of Psychology and Neural Science at New York University, who said in early July the AI narrative was being "overhyped" to JPMorgan's top tech trader Ron Adler who warned clients a week ago "The AI hype continues to wane." 
… additionally, Nordic Semiconductor reduced its revenue forecast for the third quarter on 'soft demand.' This further underscores the downturn in the chip sector, suggesting that the global economy could be stumbling under the weight of central banks' most aggressive interest rate hikes in a generation. 
Loading…
(Visited 3 times, 1 visits today)