Former Fox News host Tucker Carlson is rallying forces to convince Fox to let him out of his contract so that he can work for, or launch, another network, Axios reports, citing sources close to Carlson – who apparently "knows where a lot of bodies are buried, and is ready to start drawing a map," said one source who wasn't authorized to speak publicly.
The network currently holds a contract which expires in January 2025 – after the next US election. To work on the contract dispute, Carlson has retained high-powered Hollywood lawyer Bryan Freedman, who told Axios: "The idea that anyone is going to silence Tucker and prevent him from speaking to his audience is beyond preposterous."
According to the report, "Carlson allies with big platforms are prepared to attack Fox for trying to keep him on the shelf."
Why it matters: Tucker vs. Fox could reshape the conservative news world. Fox, which has seen its ratings plunge in Carlson's slot since he was let go 13 days ago, wants to sideline him by paying him $20 million a year not to work.

We're told Carlson has been contacted by outlets — including the right-wing Rumble and Newsmax — that offered to pay him more than his Fox contract. -Axios
And in a blurb that could send shockwaves through the media landscape, Axios reports that Carlson and Elon Musk have discussed working together, however there are no specifics to report.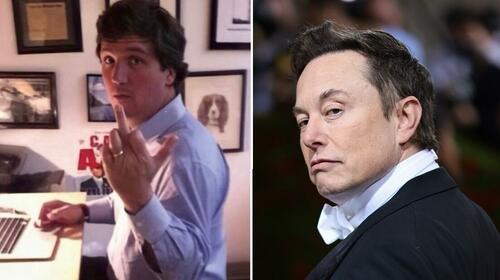 The former Fox host is also looking into building a direct-to-consumer media outlet through which his millions of fans could pay to watch him – something his predecessor, Bill O'Reilly, has successfully employed.
See you soon?
48 hours after Fox booted Carlson, he tweeted a video discussing the ills of the industry, ending with "See you soon."
Good evening pic.twitter.com/SPrsYKWKCE

— Tucker Carlson (@TuckerCarlson) April 27, 2023
One close Carlson friend told Axios of the media titan's allies: "They're coming to him and saying: 'Do you want me to hit Fox?'
To which Carlson has been saying "No. I want to get this done quiet and clean."
In a sign of what could be coming, Megyn Kelly hit her former employer for its post-Carlson ratings by tweeting a reference to conservative attacks on Bud Light: "My audience is calling them #Foxweiser." -Axios
That said, "Now, we're going from peacetime to Defcon 1," according to the friend. "His team is preparing for war. He wants his freedom."
Loading…
(Visited 1 times, 1 visits today)