On Friday, close to 13,000 United Auto Workers members went on strike at three plants in Michigan, Ohio, and Missouri. This approach, called 'selective strikes,' leaves big Detroit automakers guessing where the next labor action will emerge. Such tactics give union negotiators leverage at the bargaining table, with discussions set to restart on Saturday.
UAW strikes have targeted plants of General Motors, Ford, and Stellantis, the Chrysler parent company. Data from Wards Intelligence shows the three plants account for 9% of the Detroit companies' overall vehicle production in North America.
The union has a war chest of $825 million strike fund that can prolong the strikes if need be. On Thursday night, UAW boss Shawn Fain said the selective strike strategy "will keep the companies guessing" and "our national negotiators maximum leverage and flexibility in bargaining." 
More on the union's war chest from Deutsche Bank: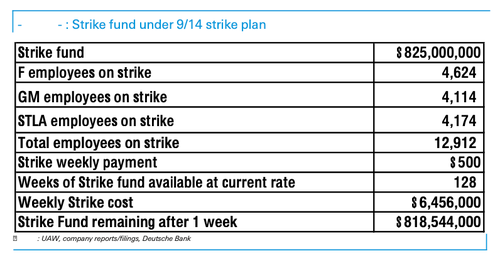 Fain's demands need to be more attainable for automakers. He initially proposed a 40% pay hike for workers for a new four-year labor contract with automakers. All three automakers have counteroffered the union's pay hike demand at about half. 
Deutsche Bank provides a great snapshot of what the union demands and what automakers have offered.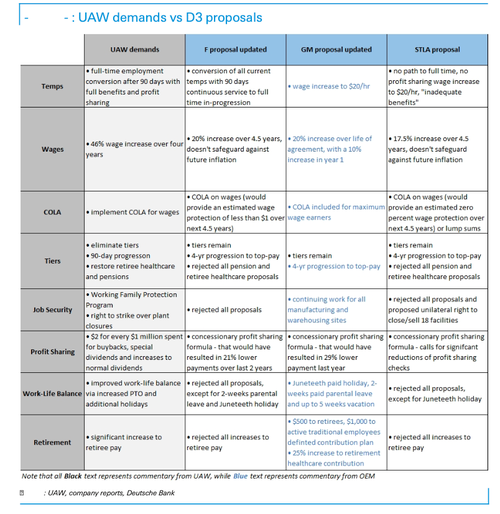 However, automakers are still far apart from the union's demands. Reuters cited the Detroit News, which said Stellantis raised its proposed pay hike from 17.5% on Wednesday to 19.5% on Friday. Other automakers, including Ford and General Motors, offered similar pay hikes that the union has rejected.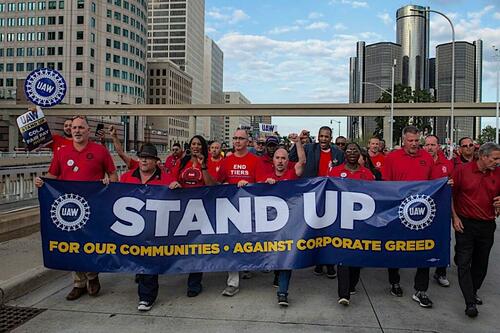 Reuters noted the union and three automakers will resume bargaining on Saturday. 
Ford said in a statement the ripple effect of the strike is already being felt: 
"Our production system is highly interconnected, which means the UAW's targeted strike strategy will have knock-on effects for facilities that are not directly targeted for a work stoppage.

"Approximately 600 employees at Michigan Assembly Plant's body construction department and south sub-assembly area of integrated stamping were notified not to report to work Sept. 15. This is not a lockout. This layoff is a consequence of the strike at Michigan Assembly Plant's final assembly and paint departments, because the components built by these 600 employees use materials that must be e-coated for protection. E-coating is completed in the paint department, which is on strike."
Ford has temporarily laid off 600 workers at its Michigan Assembly Plant in Wayne. Also, General Motors told 2,000 workers at a Kansas car plant that operations will be shuttered next week.
UAW Boss Fain said Friday, "We're not going to wreck the economy. The truth is we are going to wreck the billionaire economy." 
The Biden administration sent two aides, Gene Sperling and acting labor secretary Julie Su, to Detroit to assist negotiations and urge both sides to agree on a new labor contract. 
Biden said that "no one wants a strike," but he believed "record corporate profits … should be shared by record contracts for the UAW".
"The companies have made some significant offers. But I believe that should go further to ensure record corporate profits mean record contracts," the president continued. 
Even though Biden is the most pro-union president ever, some UAW members aren't thrilled with the president's handling of the economy:
"I see a lot more people, I guess, counting their pennies, more or less.

 "You mentioned Biden and they are like no that is not working anymore, we need to change things. And I hear lately on the news it is the Biden brand, the Biden brand, but we are not making enough money so we are going to go off the brand. Yes, I am tired. I want to retire one day, but based on the economy, I have to work to lunch the day of my funeral," Kelly Vankuren told Fox News host Jesse Watters.
So who is the winner after the dust settles? Mike Shedlock from MishTalk explains: 
There are two definitions of win, short-to-midterm and long term.

The long term view is easier to state. GM and Chrysler (now Stellantis) already went bankrupt once over untenable wages and benefits. It could easily happen again. And If the bondholders (not that I feel much sympathy for them) were not totally screwed in the last settlement, it would have been much worse for the unions.

Short term, I suspect everyone loses, but Fain and the UAW will temporarily cheer.

Record profits said Biden. Lovely. Then what? Then a preposterous deal, then bankruptcy?
The winner, according to The Wall Street Journal is Tesla's Elon Musk: "Whatever the UAW Strike Outcome, Elon Musk Has Already Won." 
Loading…
(Visited 5 times, 1 visits today)