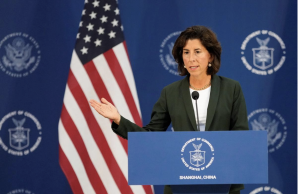 U.S. Secretary of Commerce Gina Raimondo attends a press conference at the Boeing Shanghai Aviation Services near the Shanghai Pudong International Airport, in Shanghai.
The United States is trying to "choke" the Chinese regime's military capacity and won't let the "most sophisticated" chips be sold to the regime in Beijing, Commerce Secretary Gina Raimondo said in an interview that aired on Sept. 3.
Ms. Raimondo, whose department oversees export controls, was asked during an interview with NBC's "Meet the Press" whether the United States will restrict the superconductor chips export to Beijing "in a way that China doesn't feel we're trying to choke their military technology."
"We are trying to choke their military capacity," Ms. Raimondo said. "So if they feel that, that means our strategy's working.
"Certainly, on my watch, we are not going to sell the most sophisticated American chip to China that they want for their military capacity."
Ms. Raimondo confirmed that the United States also will prevent its companies from selling the most advanced semiconductors to China. But she noted that such restrictions aren't applied to "less sophisticated" chips.
"I do want to be clear," she said. "We will also still continue to sell, you know, billions of dollars of chips a year to China because the vast majority of chips that are … not the leading edge, cutting edge that I'm talking about.
"That's hard for people to accept. It's kind of a nuanced, complex message and policy reality. But it is the reality because … export controls are about national security, not an economic advantage."
Ms. Raimondo's message came days after she
returned from China
. The U.S. commerce chief spent three days talking to the regime's senior economic officials and American business representatives in Beijing and Shanghai. As a result, the two sides agreed to have
regular dialogues
by setting up a new "commercial issues" working group and a platform focusing on "export control enforcement information exchange."
The trip also came after President Joe Biden signed an executive order last month to restrict investment in China's semiconductors industry and other sensitive technologies. The order, which is likely to take effect next year, will prohibit American private equity and venture capital from flowing into China, funding the regime to advance its military and intelligence capabilities. The decision followed the U.S. semiconductor
export controls
to China, which were unveiled in October 2022.
The Chinese regime's top officials, including Commerce Minister Wang Wentao and Vice Premier He Lifeng, conveyed Beijing's displeasure about such restrictions during their recent meetings with Ms. Raimondo.
Ms. Raimondo said several times that there's no room to compromise or negotiate on national security. She emphasized before leaving China that the new communication channels, which have already drawn criticism from Republicans, weren't "to seek concessions, but it is an opportunity to share information and increase transparency."
She told NBC that by the end of the decade, America will have "a large, deep, best-in-the-world semiconductor ecosystem."
"We need to get back into the business of, actually, manufacturing leading-edge chips here and packaging leading-edge chips here," Ms. Raimondo said. "And yes, we will, by the end of this decade, have regained prominence and have that deep ecosystem, including research and development, here in the U.S."
'Erodes Trust'
Ms. Raimondo is the latest U.S. cabinet official to visit China, following trips by Secretary of State Antony Blinken, Treasury Secretary Janet Yellen, and John Kerry, President Joe Biden's climate envoy.
President Biden is seeking to reopen high-level communications to ease tensions with the communist regime in Beijing, which have escalated over a slew of issues, from trade and technology to Taiwan. The latest episode includes the breach of U.S. government emails by China-linked hackers.
Ms. Raimondo said she brought up the issue that her own email account was hacked during the meeting with Chinese officials in Beijing.
"I brought it up. I said, you know, we know what's going on that erodes trust. And you know, I wanted to be clear with them that we aren't foolish. We aren't close-eyed to the reality of what they're trying to do," she told CNN's "State of the Union," which was broadcast on Sept. 3.
"They suggested that they didn't know about it, and they suggested that it wasn't intentional. But I think it was important that I put it on the table and let them know and let them know that it's hard to build trust when you have actions like that."
'Wearing Thin'
Ms. Raimondo's comment also came as China is grappling with a faltering economy. Foreign investors are pulling money out of Chinese stock. One in five young Chinese, between the ages of 16 and 24, are jobless. The real estate sector, which once contributed to nearly one-third of China's gross domestic product, is in bleak shape. Real estate giant Evergrande filed for bankruptcy protection earlier this month, and Country Garden, another large property developer, is now in danger of default.
"I think there's no question that [China's economy] is slowing down," she said. "And certainly, they're having real, real significant challenges in the real estate sector."
Ms. Raimondo has said that U.S. firms faced new challenges, among them unexplained large fines, raids on businesses, and changes to a counterespionage law.
"I was very clear, direct, and firm in all of my conversations with my Chinese counterparts," she told CNN. "I didn't pull any punches. I didn't sugarcoat anything."
Ms. Raimondo said the patience of U.S. businesses was "wearing thin" and that they deserved a "predictable environment and a level playing field.
"China is making it more difficult," she told CBS's "Face the Nation."
"I was very clear with China that we need to—patience is wearing thin among American business. They need and deserve a predictable environment and a level playing field.
"Hopefully, China will heed that message."
(Visited 5 times, 1 visits today)