Auto research firm Cox Automotive – the owner of the closely followed Manheim price index – published new data for August that shows wholesale used-vehicle prices marginally increased on a monthly basis for the first time since March. 
The Manheim Used Vehicle Value Index stood at 212.2 in August, up 0.2% from July. The index is down 7.7% from a year ago. These prices usually filter into the retail side of the market with a slight lag. 
"August brought a stop to wholesale price declines, though it was only a small reversal of the larger magnitude declines so far this spring and early summer," Chris Frey, senior manager of Economic and Industry Insights for Cox Automotive, wrote in a press release. 
Frey said, "Historically speaking, the monthly figure aligns with the 0.3% average we've seen since 1997. Sure, there were swings in August during the financial crisis, the COVID reopening period of 2020, and the 2022 doldrums; but this year, the performance looks more ordinary. Like last month's note, the current Manheim Index level of 212.2 is barely above that of the 212.1 measure seen in August 2021." 
"Used market conditions have been quite consistent for a few months and are not likely to change much, even with the larger push toward balance; sales are slightly stronger than expected, inventory remains tight, and prices are holding at levels around 6% below last year at the same time. These factors are expected to prevent any substantial decline in wholesale prices through year-end," he noted. 
Given what Frey has described, the wholesale used vehicle prices may have bottomed for the remainder of the year. 
First monthly increase since April.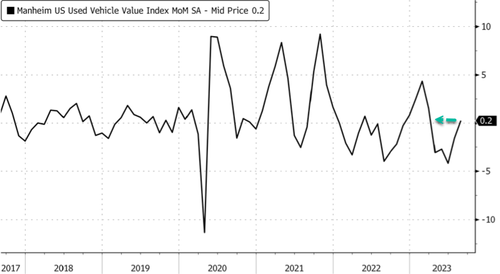 And year-over-year declines appear to have stabilized in the first eight months of the year.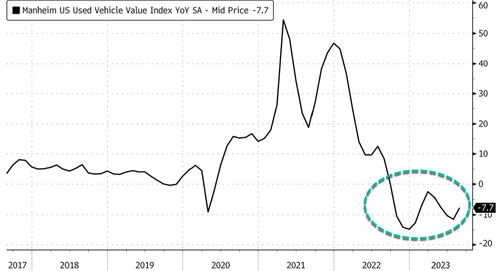 Cox also showed that used-vehicle retail sales in August were up 5% versus July, and the year-over-year comparison with 2022 improved marginally. The average used car price was around $27,000, slightly lower versus July but still at historical highs. Consumers are still buying even with used car interest rates at levels not seen since the Dot Com bust.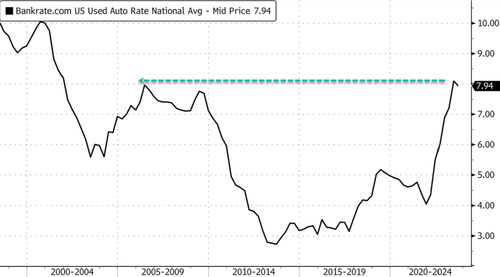 Suppose the United Auto Workers were to strike against the "Big Three" US automakers – General Motors, Ford, and Stellantis (Chrysler) – due to labor contract disputes. Could that be the catalyst to reignite used car prices?
Loading…
(Visited 2 times, 1 visits today)