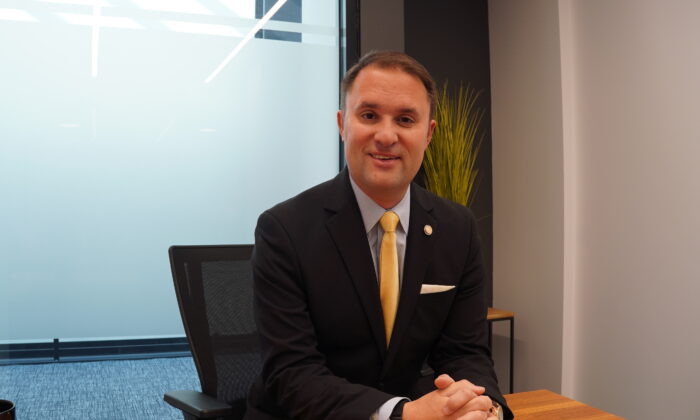 Virginia Attorney General Jason Miyares in Ashburn, Va., on Nov. 17, 2022. (Terri Wu/The Epoch Times)
When Jason Miyares set out to run for attorney general (AG) in Virginia, he said he wanted to give back to the country that gave his family a second chance from communist Cuba. Ten months into his new job as the AG, he has taken on the Chinese Communist Party (CCP)—the world's largest communist regime—for Virginians on multiple issues, including TikTok and fentanyl, and now human rights.
"One of my mission statements as Attorney General is respecting the dignity of the individual," he told The Epoch Times.
Quoting British writer C.S. Lewis, "Of all tyrannies, a tyranny sincerely exercised for the good of its victims may be the most oppressive," Miyares added, "That's the great siren call of communism. They claim they are doing it in the name of equality; the reality is: it's oppression."
And by oppressing its own people, the CCP robs them of their dignity and "ability to live their life according to their own conscience," according to him.
Among the CCP's atrocities, one that's getting increased international attention is the forced organ harvesting in China. Miyares called it "a gross violation of human rights and human dignity." "One of the greatest violations you can imagine is to literally use the human being like cattle and use them to harvest their organs," he said.
In 2006, The Epoch Times broke the news that the CCP turned China's prisoners of conscience into a huge live organ bank for forced harvesting. Once identified as a match to either high-level CCP officials or a paid customer, international and domestic, these detainees were killed on demand for organ transplants for profit. Victims of the CCP's Uyghur genocide in Xinjiang have also become the targets of forced organ harvesting.
In 2019, the China Tribunal—an independent panel—concluded that such practice was happening "on a significant scale" in China. It also stated that such actions amounted to crimes against humanity, with practitioners of Falun Gong—a spiritual practice involving meditative exercises and moral teachings based on truthfulness, compassion, and tolerance—being the primary source of organs.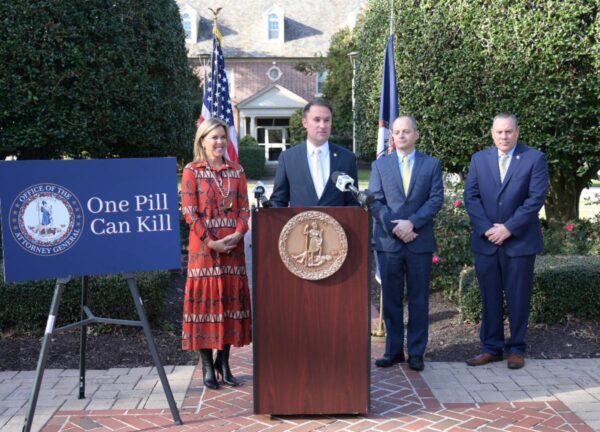 'Weapon of Mass Destruction'
Fentanyl, a synthetic opioid with China as the leading supplier, has been on Miyares's priority list. On Nov. 22, he launched a new "One Pill Can Kill" initiative with TV and radio public service announcements to raise awareness of the lethality of fentanyl-laced fake prescription pills.
According to the Drug Enforcement Administration (DEA), six out of ten fentanyl-laced fake prescription pills contain 2 mg of fentanyl, a potentially lethal dose.
Prescription fentanyl for severe pain management may be diverted for misuse, but most cases of fentanyl-related overdoses in the United States are from illegally made fentanyl sold by drug dealers; the precursor ingredients are manufactured in communist China and shipped to Mexican drug cartels, a DEA report (pdf) in January 2020 says.
And in August 2021, a report (pdf) by the U.S.-China Economic and Security Review Commission said that China remained the primary country of origin for fentanyl in the United States despite the CCP's 2019 pledge to regulate all forms of fentanyl.
The DEA announced seizing over 10 million fentanyl pills and 980 pounds of fentanyl powder between May 23 and Sept. 8, 2022. "The amount of fentanyl taken off the streets during this surge is equivalent to more than 36 million lethal doses removed from the illegal drug supply," said the DEA press release.
"Fentanyl is a weapon of mass destruction, in my opinion," Miyares said firmly. With about two dozen bipartisan attorneys general across the nation, he had issued a joint letter in September urging President Joe Biden to declare fentanyl a weapon of mass destruction.
"We've lost over 100,000 Americans in the last 12 months to fentanyl overdoses. It is a number that is growing. There was one study out of Stanford that said if we don't get control over this by the year 2029, we could lose over a million Americans, and so much was coming from China."
He said he hadn't heard back from the Biden administration but hoped that the new leaders in Congress would give this issue more serious attention. He added that the number of casualties caused by fentanyl was equivalent to two Hiroshima nuclear bombings.
"[Fentanyl] is affecting every community I go to in Virginia; people have lost loved ones," said Miyares. "And it is chemical warfare, in my opinion, what [the CCP] are shipping over with the [Mexican] cartels. And it is an evil collusion impacting almost every town and city in the country. And it's tragic."
According to the Virginia Department of Health (pdf), fentanyl contributed to 76.4 percent of all Virginia overdose deaths in 2021. The total number of fatal fentanyl overdoses increased 22.8 percent from 2020 to 2021. It was estimated that in 2021, 98 percent of fatal fentanyl overdoses in Virginia were caused by the illicit, rather than prescription, version of the drug.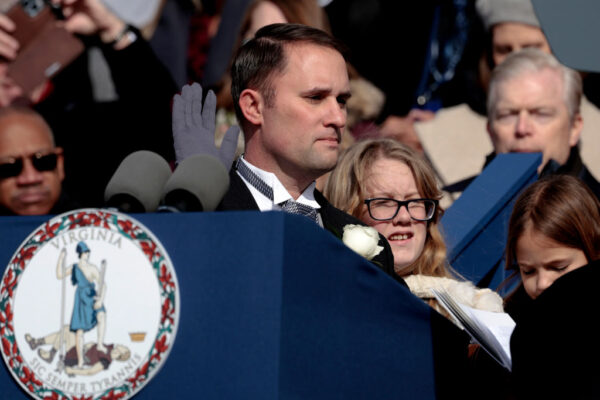 Protecting Young Virginians Online
Another CCP-related priority for AG Miyares is to protect Young Virginians online.
In March, Miyares joined his counterparts in 43 other states in a nationwide investigation on TikTok—a video-sharing platform owned by Chinese company ByteDance—and its physical and mental impact on children.
"Our children are in the midst of a mental health crisis, and the negative effects of social media platforms like TikTok on our youth have raised concerns for some time," he said in a press release.
The investigation focuses on TikTok's techniques in boosting young user engagement in duration and frequency of visits. In China, Douyin, the Chinese version of TikTok, is not allowed for minors under the age of 14. Children can only use the app for 40 minutes at a time and not after 10 p.m. But that's not the case in the United States.
The attorneys general also wrote to TikTok's head of legal in California in a joint letter, urging the company to provide parental control features.
Since then, more federal leaders have spoken up about the TikTok threat.
FBI Director Christopher Wray has said that TikTok is part of the CCP's strategy to gather data on individuals worldwide.
"We do have national security concerns, obviously from the FBI's end, about TikTok," Wray said during a testimony to Congress on Nov. 15, noting that all Chinese companies had to cooperate with the CCP with its demands. "They include the possibility that the [CCP] could use it to control data collection on millions of users or control the recommendation algorithm which could be used for influence operations if they so choose, or to control software on millions of devices."
On Nov. 20, Sen. Mark Warner (D-Va.), chair of the Senate Intelligence Committee, called TikTok "an enormous threat" in that all the data children input and receive via their phones would be monitored by the CCP.
Likewise, Sen. Tom Cotton (R-Ark.) described the TikTok app as "one of the most massive surveillance programs ever, especially on America's young people."
TikTok is negotiating with the U.S. government to determine measures to address national security concerns.
Love of America
For Miyares, combating communism and love of America go hand in hand.
Virginia's first Hispanic attorney general has often said that his story didn't start in Virginia Beach, where he grew up and served as a state representative. It began in Havana, Cuba. In 1965, his mother Miram Miyares fled Cuba at 19, arriving in America penniless and homeless.
She relayed to him family stories, including his uncle's arrest during the middle of the night by communist leader Fidel Castro's secret police and suffering humiliation from a mock execution because he spoke against the communist government.
With the understanding of the harm of communism, she instilled in him "a passionate love of the freedom and democracy of America," as Miyares often credited her.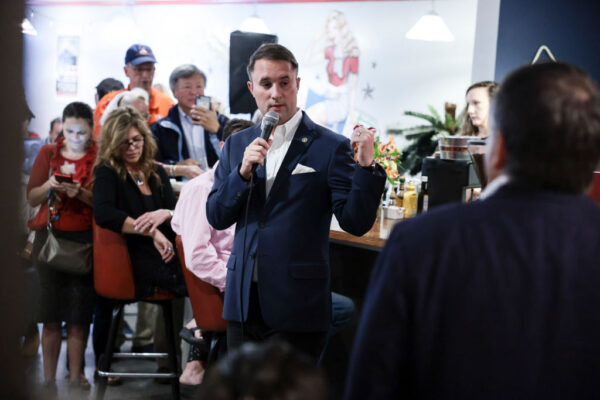 He first noticed the contrast between the Cuba stories and her life in America when he taught her the Pledge of Allegiance in their kitchen. She was preparing for her naturalization ceremony then. Now, speaking at naturalization ceremonies is one of his favorite things to do, he said at a Hispanic Heritage Month event in McLean, Virginia, in September.
"I love to say America is a nation of second chances. When I was just six years old, I remembered sitting in a federal courthouse, watching my mother taking the Pledge of Allegiance," he added that his mother's naturalization ceremony was still a vivid memory for him.
"Abraham Lincoln called America the last best hope on Earth. And when he said those words, we were only 80 years young as a country. But I think Lincoln's genius is he understood what we could become," he reiterated in November. "And what we have become, and hopefully we always will be, is that beacon of light that it doesn't matter where you came from, you've come here to this country and live your life to your fullest potential."
Miyares and his family are an example of that.
On Oct. 11, Virginia Gov. Glenn Youngkin declared the day as The Miyares Family Day in honor of Miriam Miyares's 57th anniversary of fleeing communist Cuba and Attorney General Jason Miyares's historic election in Virginia as the first Hispanic official elected statewide.
The proclamation hailed the AG as "a champion of freedom and democracy, possessing qualities instilled in him by his mother, Miriam Maria Miyares."
To him, America is a miracle: "I call it the American miracle. It is a miracle what we have here. It also means there are some other countries that want to tear us down, other countries that want to hurt us, other countries that want to influence us in a negative way."
He continued, "I think what's so important is to recognize that, for us to be the last best hope on Earth, we have to protect [the America miracle], and we have to cherish it."
(Visited 1 times, 1 visits today)