Out of 28,114 publicly-listed U.S. companies analyzed over the last century, the 25 best stocks have created nearly a third of all shareholder wealth.
Put another way, as Visual Capitalist's Jenna Ross and Joyce Ma detail below, just 0.1% of stocks have added over $17.6 trillion to investors' wallets.
In this graphic, we use data from Henrik Bessembinder of Arizona State University to show the best stocks of the last century.
How is Shareholder Wealth Creation Calculated?
Bessembinder took three steps to measure lifetime shareholder wealth creation:
Considered U.S. stocks in the Center for Research in Security Prices database from 1926 (or when the stock was first listed) until 2022 (or when the stock was delisted).

Measured share price changes as well as cash flows to/from shareholders including dividends, spinoffs, share buybacks, and new share issuances.

Calculated the excess wealth generated compared to investing in one-month Treasury bills over the same time period.
If a company exited the database during the period, Bessembinder calculated its delisting return based on any proceeds from mergers or acquisitions as well as estimates of any remaining value after delistings for negative reasons.
GM is the only company within the top 25 to be delisted prior to December 2022. Its second IPO in 2010 was considered a new company and not continuous wealth creation.
The 25 Best Stocks in Modern History
With this definition in mind, here are the best stocks since 1926.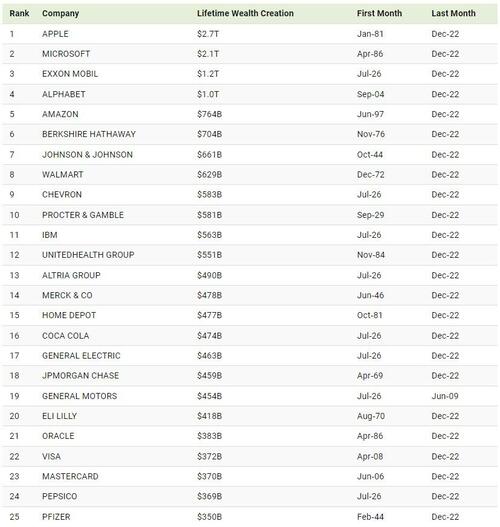 Apple takes the top spot, having created nearly 5% of all shareholder wealth. From the iPod to the iPhone, Apple's ability to keep innovating has helped it gain a loyal fan base and given the company pricing power. Notably, Apple is America's most profitable company.
ExxonMobil is the only non-technology company among the five best stocks. When Exxon and Mobil merged in 1999, it was the biggest merger in history and ExxonMobil temporarily became the world's largest public company by market capitalization. More recently, the company experienced record profits in 2022 due to high oil prices.
The list also shows how wealth-generating patterns have changed over time. While energy and consumer staples are more frequent among older companies in the ranking, the stocks that have created massive wealth in recent years are more likely to be technology or financial companies.
Finding the Next Winners
Given that the names on this list account for 0.1% of all public U.S. stocks, picking out one of the next long-term winners could be a difficult task. In fact, 95% of actively-managed large cap funds—which aim to beat the market through stock picking—underperformed their benchmark over a 20-year period.
Investing in index funds is one possible way to get exposure to top performers. For instance, Apple has been part of the S&P 500 since 1982, about a year after it went public.
Loading…
(Visited 1 times, 1 visits today)